How Brands Are Using Promotional Clothing
This entry was posted on January 5, 2017
Research commissioned by the BPMA at Marketing Week Live 2016 highlighted how brands are using promotional clothing.
The research showed most use is attributed to exhibitions, followed by brand awareness and staff uniforms.
Branded clothing is a great way to achieve maximum exposure wherever you go! 63% of respondents said they use promotional clothing to ensure staff are easily distinguishable and stand out from the crowd.
T-shirts and Polo shirts are the most popular choice of garment – this is because they tick boxes in terms of comfort, durability, function and style.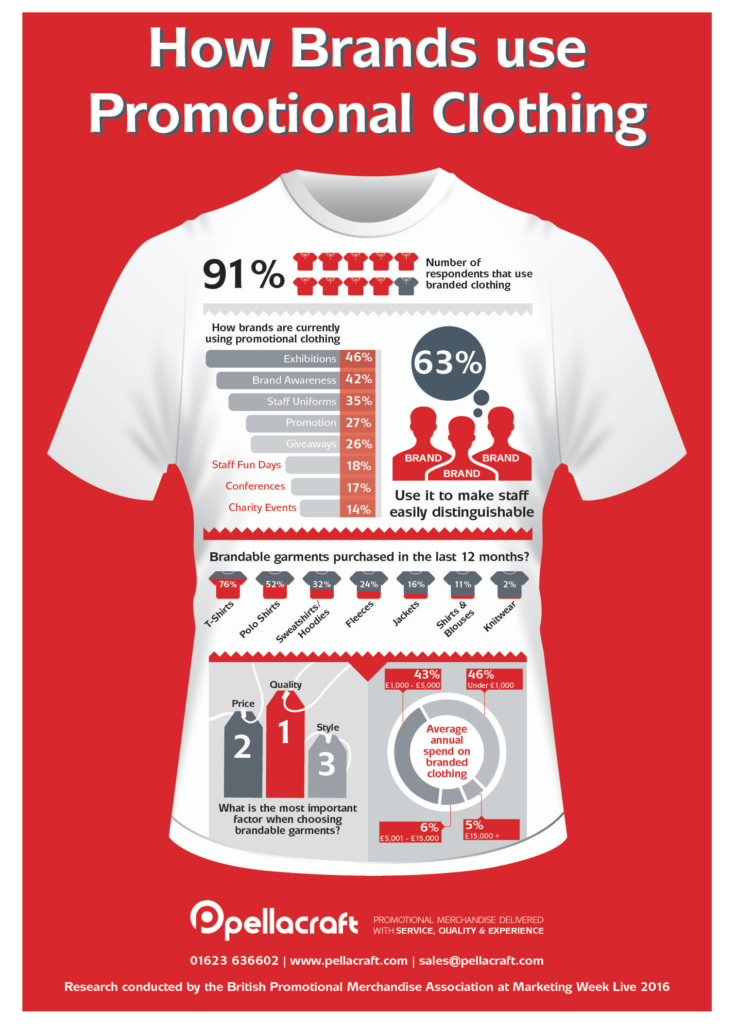 Promotional clothing is now readily available in many styles and colours; stripes, trims, contrasting panels and sleeves as well as a variety of branding options. This means promotional clothing can offer a more high street look and fashionable feel. Pellacraft's Premium range of branded clothing features top brand names such as Nike and Stormtech. 
The following are some points to consider when purchasing branded clothing:
Who is the recipient? Staff, customers, prospective customers
The audience demographic, who will see this?
The event or occasion. Is this for a specific event, exhibitions, charity fun day, golf days?
How often is it likely to be worn? Daily by staff, on occasion, one day event?
How do you want your brand to be seen by others? There are various printing options, choices in logo positioning and embroidery styles so you can make any clothing your own.
This may seem like a lot of questions but it's a representation of your brand. When you invest in promotional clothing it's vital to ensure the garment delivers your objectives and lives up to your brand values.
View our full range or corporate clothing here. We offer everything from festival ponchos to sportswear to work safety uniforms.
If we can help with your branded clothing needs, call us on 01623 636602 or get in touch via LiveChat.
Our commitment is to ensure that we are perfectly placed with UK-made, eco-friendly, ethically sourced, REACH compliant, Sedex approved, ethically audited far-east factories and fair-trade products.