Responsible Packaging
This entry was posted on July 18, 2019
Responsible Packaging for your branded products...
Part of our values here at Pellacraft is to be responsible. We like to keep our promises and are mindful through our ethical buying policies of our impact on our community and our environment.
Working with suppliers who share the same ethics, we're thrilled to announce a selection of products can now be packaged in an eco and environmentally friendly way. Working together, we know, small changes can help to make a big difference!
Here's a few examples of where biodegradable or alternative packaging can be found...
Shaped Biscuits, Cookies and Flapjacks
If you're looking for tasty treats to promote your brand but concerned about the plastic packaging, don't worry! We have a selection of delicious gifts that you and your audience can enjoy, without feeling guilty!
You can choose from 5cm Biscuits, Cookies and Flapjacks*, which are sealed using NatureFlex.  NatureFlex is a speciality packaging film that has been designed to support the environment and is biodegradable and compostable.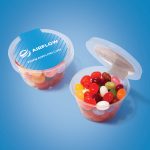 We also have a great range of sweets, snacks and mints that are available in compostable pots and recycled tins, that can be found in our eco and environmentally friendly collection.
Name Badges
We use name badges for a variety of reasons; for employees, events, conferences and seminars, with millions produced each year. Generally you will find badges to be packed individually, helping to protect them in transit, as you may guess, this adds up to a vast amount of small poly bags and packaging being used. To break tradition and help reduce plastic waste, a selection of our British made badges will now be carefully packed and delivered using 'Ecopack' packaging.
The benefits of Ecopack** packaging is that it's…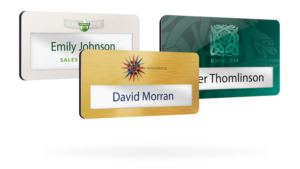 - Completely plastic free and sustainable
- made from recycled card with printed care & safety information for your badges
- 100% easily recyclable in any office
The mount card used is made from 100% recycled card, with FSC recycled certification, and excludes harmful optical brightening agents. This teamed with recycled paper and card to replace any bubble wrap, along with plastic free padded envelopes, plus a few other tweaks to minimise waste; it offers a great eco packaging solution.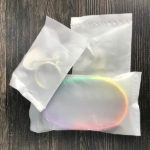 As well as the above, we're able to offer biodegradable packaging on a range of other items, such as trolley coins and wristbands; with others following suit wherever possible. Another example of where packaging will be reduced considerably is Lanyards. These will now be tied using wasted materials from the lanyard fabric, again removing the need for plastic bags.
As per our values, the impact we have on the environment is our priority. As well as working with our suppliers, we try to reuse, recycle and reduce waste wherever possible. Unfortunately, in some instances packaging your order to protect your goods is impossible to avoid. However, we are constantly looking at ways to improve and learn in order to achieve the best outcome for our customers and the environment.
Get in touch!
To find out more about how we pack promotional products before receiving an order, get in touch! Call us on 01623 636602 or contact us via the website.
*Eco Packaging is currently available on smaller products only.
**Ecopack is currently available on certain products only.
Please check before placing your order.