Eco and Environmentally Friendly Bags for you and your audience
This entry was posted on July 16, 2019
Eco and Environmentally Friendly Bags for you and your audience...
It's been a while since the 5p charge for plastic bags came into effect, in fact, it was 2015 when the law was introduced. It requires all supermarkets and large stores to charge 5p for single use plastic bags. Since it's introduction, it has been revisited with charges increasing to 10p, and a proposal to include smaller retailers who were previously exempt.
Reusable bags have themselves developed since 2015 with more and more made and developed from natural, recycled and sustainable materials; all helping to reduce and reuse waste.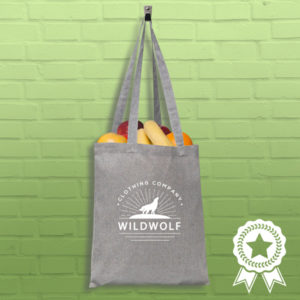 One bag that particularly stands out is the award winning Newchurch Recycled Cotton Tote Shopper, and is one of the most sustainable shoppers currently available. The fabric used to manufacture the shoppers is 70% recycled cotton from off cuts, waste cotton and towels, blended with 30% polyester (PET which is recycled from plastic bottles), for extra structure. Due to it's totally recycled nature, every bag and batch will differ, adding a uniqueness to each shopper.
With a variety of eco and environmentally friendly bags now available; we have a put together a short guide to help you choose bag for your brand and message.
Non Woven PP
Non Woven polypropylene is a recyclable plastic fabric that is designed to be used time and time again, after which it can be recycled. Woven polypropylene is a thermoplastic, and the material gets its woven look by pressing a pattern onto the material.
A great example of a Non Woven PP is the Tucana Shopper. The Tucana offers a great print area and is available in a range of colours.
Cotton
Cotton is a strong, durable and versatile material and is a natural renewable resource, making it extremely eco-friendly. We have a wide range of natural and colourful cotton shoppers (made using AZO free dye), helping to protect the environment further from harmful chemicals. One of our best sellers, and favourite eco shopper is the Brixton Coloured Shopper. Their generous branding area and bright colours will ensure your brand and design will stand out!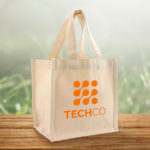 Another little favourite of ours is the Ludlow Canvas Gift Bag. This gift bag is ideal for a variety of events and is made using natural cotton canvas, with AZO free dye. Once gifted, it can be re-used as a handy little shopper or lunch bag by the lucky recipient.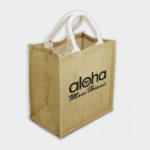 Jute
Jute is a natural fibre that can be spun in coarse strong threads, making it extremely eco-friendly. In many cases it's biodegradable and recyclable. Naturally strong the Jute makes a great heavy duty, reusable shopper. A definite item for  your shopping cart is the Brighton Jute Bag. Made using sustainable jute the bag is lined with a laminated degradable plastic. It also offers a sizeable print area for your log and design.
If you would like to help shop for your eco bag, or if you would like to discuss our product range further, call us on 01623 636602, or contact us via the website.
Shop here for more eco and environmentally merchandise!