Promotional Shopper Bag
This entry was posted on February 21, 2012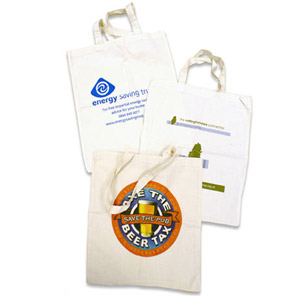 The environmental impact of disposable plastic bags has seen the vast increase in the eco friendly alternatives within the promotional sector. The plastic bag is the main polluter with over 6 billion being used every year in the UK alone. The main problem with disposable plastic bags is the number of years it takes for these to biodegrade in landfills. Conservative estimates are that a disposable plastic bag can take anywhere from 500 to 1000 years to degrade. This environmental impact has changed the consumer relationship towards the plastic bag for more opting to use a reusable bag.
This consumer change has seen the popularity of reusable shopping bags increase, leading to many brands adopting reusable shopping bags into their promotional products range. The advantages are the low cost unit prices associated with purchasing and printing. The 100% Natural Cotton Shopper is an environmentally friendly printed bag that will leave a lasting presence for a great price.
The advantage of a branded cotton shopper bag are the opportunities of it being seen on a regular basis and promoting your company logo or details. Printed shopper bags also boast a large print area to ensure your branding is noticed. These advantages combined with the reduction of environmental impacts make the printed natural cotton shopper an ideal eco friendly promotional product.