5 Reasons Why Promotional Mugs Are Must Have Promotional Products
This entry was posted on February 2, 2012
Promotional Mugs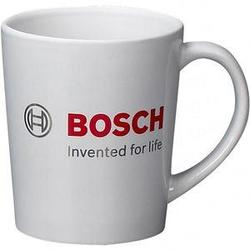 When looking for promotional products that have a proven track record for value and ROI then one of the best options are promotional mugs. They are highly customisable where you can print your logo or add your message, ensuring that you get maximum exposure over a very long time.
Below are five top reasons why promotional mugs should be on your list of must have promotional products.
Getting Your Message Across
When looking for promotional items you want to ensure that your product is viewed on a daily basis and not just put in a cupboard or drawer somewhere and never looked at again. Promotional mugs are not only well received but are virtually guaranteed to be used over and over again. Plus you can ensure your company brand is seen by an even wider audience as there are a variety of travel mugs to choose from. Remember its not just your customers who will see your mugs, they will be viewed by many people over the course of their lifetime.
Cost Effective Advertising
When compared to other forms of advertising such as TV or radio, promotional mugs offer a great ROI. A mug will continue to promote your business or message long after a TV or radio ad has ended. They are a more focused form of advertising which has a greater chance of working rather than the scatter gun approach of the general media.
Giving The Right Impression
The right promotional product can speak volumes about they type of company you are. Branded mugs are an excellent way to not only get your message across effectively, but will also leave a positive impression on your customers. Your promotional mugs will be associated with your company for many years to come so choosing the right mug is essential. Once your promo mugs have been given you can rest assured that you have given a quality promotional product that will reflect well on your company.
Many Types and Styles
From eco friendly mugs to ceramic or glass mugs, there are many types of promo mugs to choose from. Plastic mugs made out of recycled materials are an excellent way of promoting your company and making a statement about how your business is eco friendly. Ceramic mugs are very popular as they are dishwasher and microwave safe and the print won't fade therefore ensuring your logo or message will be on view for many years.
Versatile and Popular
The versatility of printed mugs is one of the reasons they are so popular. From giving them as gifts at Trade Shows or conferences, to giving as a reward to employees or just as a parting gift to visitors to your company when they leave. They fit every need you may have and coupled with their cost effectiveness they are an obvious choice when promoting your business.
Pellacraft have been supplying promotional products for over 25 years, you can trust us to deliver the best products at the best prices with award winning service!