Promo Item I Love - Moby Pad Mobile Phone Holder
This entry was posted on May 4, 2012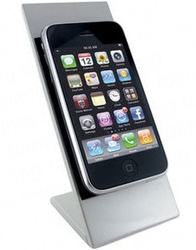 The Moby Pad Phone Holder - An Essential Desk Item
I really love this product, I mean I really do. I have had the Moby Pad Phone Holder on my desk for many moons and it has never let me down. I love that it holds my phone safe and secure, I love the size and shape of it and the fact that because it has the non slip tactile rubber surface it holds many other objects too.
The rubber surface really does grip your phone and you can rest assured that once it's on there its not going anywhere. Now I know what you're thinking and the answer is no, it doesn't make your phone sticky when you take it off. The tactile grip releases your phone (or other object) cleanly, there is no residue or stickiness left on your phone, it's almost like magic.
From a promotional point of view the Moby Pad Mobile Phone Holder is ideal. It has a large print area above and below the rubber surface which allows for your logo or brand message to be printed.  This really is a quality promotional product that will stand out. It will sit proud on any desk, displaying your logo or message and above all it will be used every day ensuring your company is known and associated with a quality product.
Its sleek, modern design fits perfectly with the style of most offices and desks. Plus with phones and other gadgets becoming more and more essential in our lives, the Moby Pad Mobile Phone Holder is the perfect product and is certainly worth its weight in gold.