Ice Cream – A Delicious Promotional Treat
This entry was posted on August 23, 2012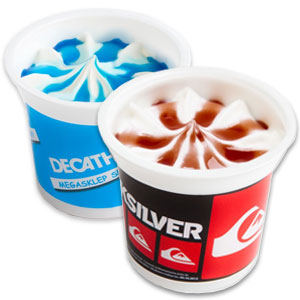 Let's be honest who can say no to a frozen tub of delicious Ice Cream, especially on a hot summer's day, it's loved by all.   Even for the health conscious there is a low fat, no added sugar, frozen 100% yoghurt version. Let's set the scene it's the hottest day of the summer and your handing out your own branded tubs of the frozen treats to passes by or delegates at a conference. Each recipient will remember your company and the tasty treat you gave them.
The promotional ice cream tubs can be branded and customised with a full colour process to incorporate your logos, event details or promotional message. The area is 189 x 44.5mm which is a great size for creating an eye catching marketing tool. Each tub contains 100ml of high quality ice cream available in 12 different flavours. These flavours are Chocolate, Strawberry, Mocha, Cappuccino, Yoghurt, Lemon, Tangerine, Lollipop, Ice Tea, Bubblegum, Blueberry, and Honey. Lollipop and Bubblegum are bound to be favourites with a younger audience.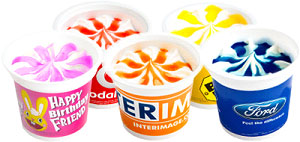 Even when the summer has gone, ice cream promotions can still be ideal marketing solutions for all types of indoor and outdoor events. A few examples of sectors where ice cream has a great marketing opportunity are concerts, sports events and catering outlets.
Get in touch to enquire about how a selection of promotional ice creams can help your advertising campaign.
Contact us:
Contact us