Warm Up With The Promotional Americano Grande Thermal Mug
This entry was posted on December 5, 2012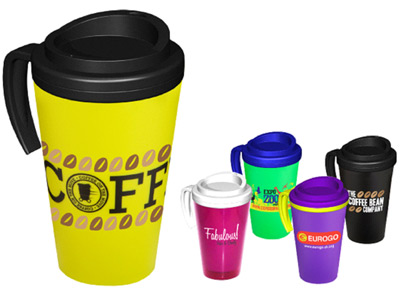 Well winter is here, there's no doubting that. The all too familiar icy blast that meets you when you step outside and your desperation to keep warm at all costs. Even being indoors isn't always a safe haven from the cold, but we all know that one thing that really helps get us all toasty inside is a hot cup of tea or coffee.
Well we now have the perfect solution for those days (any days) when you want to take your lovely hot drink with you, the Americano Grande Thermal Mug. This excellent thermal mug is an ideal promotional product for this time of year, when people are struggling to get warm, what better way than to take a sip from an Americano Grande mug with your logo printed on it.
Made from double-walled polypropylene, it will keep the drink warm and its quality materials offers outstanding durability. Available in a large range of colour options with both standard and translucent colours, these make ideal giveaway products or even in-house drinking mugs for your employees, especially if they spend a lot of time traveling.
With the option of having a full wraparound print on the mug, your logo or message will really pack a punch. The Americano Grande thermal mug is a fantastic choice this winter and its already proving a popular one.
Call us today and we will help you get the most out of this winter promotion.