An Affordable Way To Promote Your Company For A Whole Year!
This entry was posted on October 27, 2014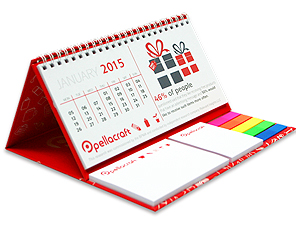 Ensure your current and future clients have a daily reminder of your company with the high quality hard cover promotional calendar.
These personalised printed desktop calendars are ideal for ensuring your brand is seen on a daily basis. With a large print area for your logo you know that your company will be getting great exposure every day for a whole year!
The calendar also comes with printed sticky notes and page flags. It is an ideal desktop gift that your clients will love. Combine the usefulness of the calendar with the great print area plus the fact that it will sit in a prominent position on your client's desk for a whole year and you have a promotional product that really is a good investment.

Call us today and we will help you get the most out of this fantastic promotion.