Charity Skydives - I'll leave it to braver people than me!
This entry was posted on October 21, 2014
There are many ways to raise money for charity, everything from the classic 'sitting in a bathtub of beans' to running a half marathon and everything in-between. But one that get's the heart racing more than most must be the charity skydive!
To be honest when thinking of what to do to raise money for charity, throwing myself out of an aeroplane and hurtling towards the ground wouldn't be on the top of my list. Now I know I would be strapped to an instructor who is very experienced, but I'll tell you now the last thing I would want to do once someone has pushed me screaming out of the plane would be to open my arms (and eyes). I'm sorry Mr instructor but I would be in the fetal position all the way down until we land.
So thank goodness for people like Adam Kingswood! He is doing one so people like me don't have to. I can give to his charity knowing that the only time my feet will leave the ground is if my office chair is too high. Plus I can have the warm feeling of knowing that I will be helping a local charity too. Win win!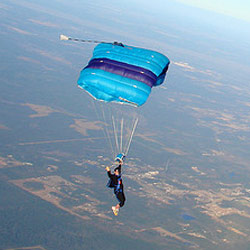 Adam is the fiancé to Pellacraft's very own Kayleigh Oaksford. He will be doing his charity skydive on 9th November in aid of My Sight Nottinghamshire, an excellent local charity dedicated exclusively to improving the lives of people living with sight loss in Nottinghamshire.
If you would like to donate to this worthwhile charity and give Adam that warm fuzzy feeling as he's hurtling towards the ground please visit his Just Giving page.
As much as I would love to fly like Superman, I think the closest I will ever get to skydiving will be sat on a plane in an uncomfortable seat with no leg room, next to a screaming kid and an inconsiderate 'person' in front that keeps leaning back so my drink spills over my lap, for two hours...
Actually, where do I sign up??