Be Ready for Winter with Printed Ice Scrapers
This entry was posted on November 5, 2014
Have you felt it? That change in the air? Yep winter is on it's way!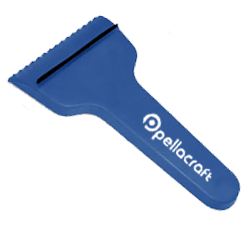 We've been lucky this year with unseasonably warm weather right up until the end of October. But it now looks like we have turned the corner and the colder weather is starting to catch us, and if the weather men are to be believed (I know, I know), this is going to be one of the worst winters for a while.
So get ahead of the game with Ice Scrapers printed with your logo and ensure you are being proactive with your promotions. The benefits of using promotional products are well known and this is more so with seasonal freebies.
The great thing about these ice scrapers is that they are recycled. Therefore by using these seasonal promo gifts not only are you getting you brand in front of people's eyes on a regular basis but you are also reducing your impact on the environment.
And with British winters often running on and on for several months and sometimes being unpredictable, you can guarantee that those ice scrapers will be seen and used time and time again!