Proof That Promotional Items Work As Advertising Solutions
This entry was posted on October 27, 2011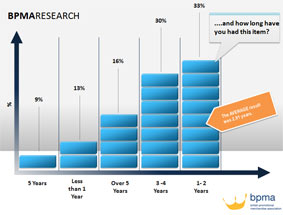 A Look Into The Promotional Industry
Choosing your promotional items for a marketing campaign can sometimes be a very daunting task, especially if you have to present your findings and justify the cost before proceeding.  Fortunately The British Promotional Merchandise Association (BPMA) has done the ideal research to impress your boss and co-workers at your next meeting.  They have conducted the first ever in-depth independent national survey into the power of promotional merchandise in the UK, questioning businessmen and women about their behavioural trends and preferences for different promotional gifts.
Their research provides some of the following key findings:
• 79% of respondents said they were more likely to do business with the company after recieving a promotional item from them.
• Over three quarters (87%) of the recipients said they kept a promotional gift for longer than 12 months.
The below PDF document contains their full report and will give you a fascinating overview of the promotional industry regarding items, target audiences and their perceptions of promotional products.  Vital knowledge when it comes to promoting your brand and getting the most out of your marketing budget.
Here at Pellacraft we aim to provide you with the very best service possible, so feel free to contact our friendly and helpful team.  They know all about the promotional industry and have over 25 years of experience.
You can get your copy of the Promo Gift Research here