Pellacraft's Charity Bake 2011
This entry was posted on November 18, 2011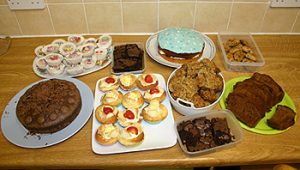 We made these for charity... Honest!
Ok everyone get ready to loosen those belt buckles! It's Children In Need 2011 and this year we decided to bake cakes.  Everyone made something different and gave money to Children in Need. Everything from ginger bread, flap jacks, chocolate cake, sponge cake and much more.
With a prize for the best one, everyone tried to come up with something different, the pressure is on – who will win?
We also had the option of a dress down day, give a minimum of £1 and come in your casual clothes if you want to.  Thankfully everyone has decided to do it (although someone forgot to tell the big boss man - oops!)
All that's left now is to plough through all of these delicious cakes (all in the name of charity you understand). Our belt buckles are already groaning at the thought of it.
Please give to Children in Need! Click Here To Donate