Improve Brand Identity With Personalised Name Badges & Lanyards
This entry was posted on September 18, 2018
Personalised name badges and branded lanyards are an essential item for any large modern business, especially if you find that you have a lot of staff, frequent visitors or attend a lot of events.
They're also well loved by HR managers, who can give a personalised name badge and lanyard to a new starter, making them easily identifiable to their new colleagues. Whilst lanyards ensure that every employee stands out from the crowd and can be used to carry security tags and ID in and around the office.
What Else Is So Great About Branded Name Badges & Lanyards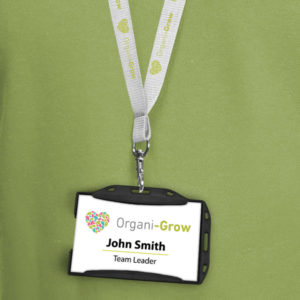 More professional – Branded lanyards give employees a very corporate appearance. They can be printed with your choice of branding to really help them to show off a professional working ethos. Wearing a lanyard will help employees feel like an important representative of your brand, creating an even stronger bond between themselves and the business.
Cost effective – Branded lanyards start from just £0.39, so they really are affordable! Printed name badges are also relatively inexpensive and can be personalised to each employee at no extra cost.
Increase brand exposure – Kitting out employees with branded name badges, lanyards and much more you can be sure that your brand exposure will increase as a result. Your logo will be visible in hundreds of everyday situations and will be on display as your employees travel on business, or when they are commuting in and out of work they will most likely be seen wearing their badge or lanyard.
Simple and convenient to wear – Unlike some products, lanyards are surprisingly comfortable to wear and are an integral part of work uniform. Whilst they may go unnoticed by the recipient, they will always be seen by those closest to them.
Long lasting – Name badges and lanyards are a sturdy and long-lasting promotional products, designed for everyday use. You can be assured that your branded lanyards and personalised name badges will stand the test of time, giving you the most from your money.
What Types Of Lanyards & Name Badges Are Available?
Lanyards and badges are available in a range of styles to suit most budgets. Some of our most popular products are listed below:
Polyester Lanyard With Safety Break
Our most cost-effective lanyard to date, the Polyester Lanyard is fully customisable. Simply choose a lanyard colour, the width of the lanyard you would like and what print option you need, up to 4 colours can be printed across the outer surface of the lanyard.  A handy safety break is placed on the back of each lanyard to protect employees from injury in the event that their lanyard is pulled.
Two Tone Lanyard With Woven Label
The Two Tone Lanyard has a patterned fabric strap in 2 shaded colours, and a woven label which can be custom embroiled with your company name. This lanyard is a more out of the box solution to traditional polyester lanyards.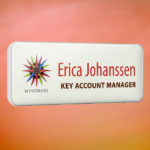 Domed Plastic Name Badge
A traditional design of name badge the Domed Plastic Name Badge has a bevel edged style and can be personalised through a choice of colour. Your logo and employees name can be printed onto each badge up to full colour.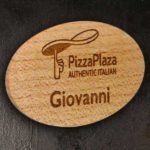 Real Wood Name Badges
If your business has a rustic, authentic style then a Real Wood Name Badge may be the right solution for you. Made from fine quality oak, these personalised name badges can be printed in up to full colour and fitted with a single bar or dual clip fitting.
Call To Arrange A Free Visual Today
If you would like to see how personalised name badges and lanyards would look on your employees, then contact us today and we will work with you to create a free design visual. Simply tell us which products you are interested in and our team of creatives will work to show you how your dream name badges and lanyards would look.