Delicious Branded Chocolate for your audience
This entry was posted on October 15, 2019
Branded Chocolate - All things chocolatey!
Did you know? The best gifts are considered useful in everyday life…or edible! Here we look at the edible, in the form of branded chocolate!
Now, if you're looking for a sweet giveaway to promote your brand, a gift to thank your customers, or reward employees, we have a delicious range of quality branded chocolate for all events and occasions.
There's no denying chocolate is a big crowd pleaser. While they may not last like a branded pen or notebook, a sweet treat will still create an impression and provide the feel-good factor!
At events and conferences, sweet treats work. They're great for elevenses as break time hits, or as an afternoon pick me up; helping your audience to soak up the last bit of information for the day. Either way, you may catch a few visitors popping back for more, giving you the perfect opportunity to chat to your audience further.
Tempted to branded chocolate treats? Here's what makes our pick and mix…
For events, we can offer a choice of chocolate beanies, celebrations, coins and foiled balls packed into a range of pouches, tins, bags, cubes, eco pots, eco boxes and Kraft cubes.

Another way to engage with your audience by means of branded confectionery at an event is by adding a golden ticket to a chocolate bar. It's a great way of creating a buzz and being remembered.
Little Thank you Gifts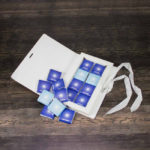 Chocolate Cards
Branded chocolates are a perfect treat for thanking customers or rewarding employees. These chocolates presented in a card means you can write your own note of thanks inside, making them much more personal for the recipient.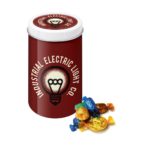 Individual Tins
These individual tins can be fully branded for your message and they can also provide a useful pen pot tin once the chocolates have been consumed, making it both a useful and edible gift!
Also available as Share Tins, allowing you to spread some joy throughout the workplace, then these share tins are a great way of thanking a customer for their business or a team for a job well done.
Winter Collection
Chocolate is a popular choice for this time of year, and we've just added a fantastic Winter Collection to our Christmas range, that will help you to send your warm seasonal wishes. The collection includes festive themed chocolates, truffles and sprouts to impressive hampers.

In addition, if branded mugs are on your festive list, team them with a Hot Chocolate on a spoon, as an extra treat.
If we can help with your branded chocolate requirements then get in touch with your brief and budget, and we can advise on what will work best for your audience. Call us on 01623 636602 or contact us via our website.