What is Minimum Order Quantity (MOQ)?
This entry was posted on October 9, 2019
We're often asked "What does Minimum Order Quantity or MOQ mean?" well, to help with your question, here's a little guide as to what it means and how we can help with it.
What is a Minimum Order Quantity or MOQ?
A Minimum Order Quantity, or MOQ is the lowest amount you can order of one specific product.
Why is a Minimum Order Quantity needed?
The main reason for a MOQ is down the manufacturing, like any business there's lots of costs to factor in when it comes to providing a product or service; it needs to be cost-effective when it comes to creating the product. From the machinery, materials and printing technique, to the time it takes to produce, all products will have their own MOQ. As you would have/will see on our website, these quantities can range from the fifties to the thousands as each product is unique. You will notice, as the quantity goes up, the price will come down as they become less expensive to produce.
Low minimum order quantities
We appreciate you may not always want large amounts of merchandise, especially if you have a small event, or if you are looking for customer or employee gifts. To help you find the right amount of merchandise for your business needs, here's a few of our favourite, cost-effective items for your audience.
A5 Mole Notebook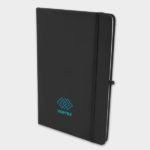 . MOQ 25 pieces.
A stylish and desirable notebook that will provide a useful gift for customers or employees. Pushing the MOQ slightly to 50, the Broadstairs Notebook provides an eco-option, which is made from a Kraft Paper cover and 100 sheets of recycled paper.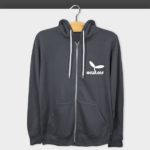 Hoodie. MOQ 25 pieces.
Clothing is a great way of getting your brand seen. Hoodies are a popular choice and they're ideal for a range of events, or for employees to wear around the workplace, helping to bring your team together!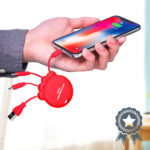 Xoopar Octopus Booster Powerbank. MOQ 25 pieces.
This is a handy product that will help to keep you connected to your audience. It features a USB, Lightening, Type C and Micro USB adapters making it compatible with IOS, Android and Windows. Its a great product for increasing brand awareness, ideal for events or as a trendy gift for your customers.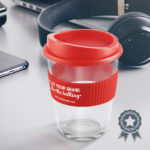 Americano Cortado. MOQ 50 pieces.
The Cortado provides a contemporary look with its glass-like appearance. The grip and lid are available in a selection of colours that will help to get your brand seen. A great product for any audience and ideal for conferences and events, helping to reduce the use of takeaway cups.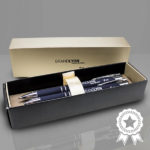 Pen and Pencil Gift Set. MOQ 50 pieces.
This set includes a Crosby Soft Touch Ball Pen and Mechanical Pencil, presented in a gift box that can also be personalised. Also available as a pen and torch option.
Durham Duraglaze Rim and Handle Photo Mug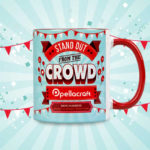 . MOQ 72 pieces.
A great gift that will stay on desks and be used a number of times throughout the day, securing regular attention to your brand and reinforcing your message.
We also have a great range of premium and high-end gifts that offer low minimum order quantities, so don't forget to look out for those within our product categories.
Looking for 100 of something?
Check out these options…

Get in touch!
If you are looking for a specific product but the MOQ is too high, then get in touch, as we may be able to accommodate your request; it's likely to come at a higher price, but it's always worth an ask. Alternatively, we can help to find a similar product, or advise on what might work best to suit your requirements and budget. Call us on 01623 636602 or send your enquiry via our website and we'll get in touch.
In addition, if you're wanting to buy in bulk but do not have the facilities to store your branded merchandise, find out more about our stock warehousing and fulfilment services.