This week we're bringing you....Issue 5.
This entry was posted on February 19, 2021
Happy Friday!  Let's hope that next week brings us all some positive and hopeful news!
We've had lots of zoom meetings this last week and been hearing about new product developments and ranges, so getting excited about summer and outdoor events at least!
So I have collected the best of the bunch that I think you might find useful!
Returning to the workplace.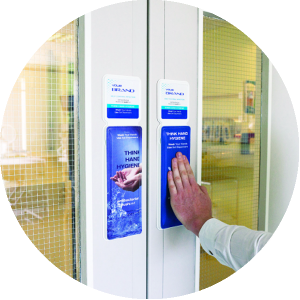 Time to start thinking about having a workplace filled with people and preparing ready for the germ hotspots.  We have Surface Skins...  Engineered to stop the spread of infection, killing germs in seconds, these handy touchpoint pads protect every user and promote best practices in the workplace.  Studies show that Surfaceskin increases hand hygiene compliance and awareness by 80%.
These work by releasing a small amount f gel under the fingers and hands when pressed by door users, which immediately self disinfected the area touched.  We've popped ours in the tea cupboard as it's definitely the most touched door.
Ideal for all push doors, simple to install, and easy to replace with a fresh Surfaceskin push pad refill.  Recommended as 7 days or 1000 activations, whichever occurs first).
Track and trace pads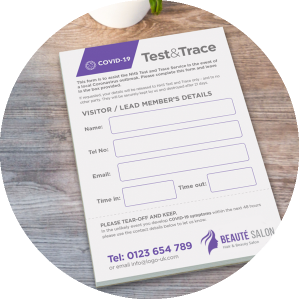 Printed with a simple form, this pad is designed to help the NHS Test & Trace service in the event of a local Coronavirus outbreak. Perforated tear-off slip for visitors to retain with your details on is included as well. It's old-fashioned but effective filling in a record of who has been to your workplace or restaurant.   Information is kept on individual A6 sheets, so comply with GDPR.
Fully brandable with your logo, containing 50 sheets of white paper, glued securely to a board backing at the head.
Ideal for cafes, restaurants, warehouses, and offices.  
Welcome Thule to the promotional range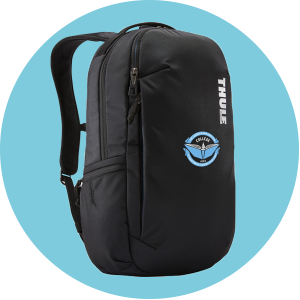 A Thule range has recently been introduced to the promotional industry, and they are a fantastic Swedish brand that works hard to create outdoor products and transportation products.
For the Thule Group, everything is about making it easy to live an active life. Their motto, "Active Life, Simplified." captures the ambition of how they develop products so that those who buy them can live an active life a little easier.
We've started with the Subterra range, which includes a 15.6" laptop bag,  a laptop backpack, plus accessory bags, available in standard and mini to compliment the laptop bags.
Click here to view the Subterra promotional range.
Ideal for sales teams when they are back on the road and event gifts.
Authentic 100% Recycled glass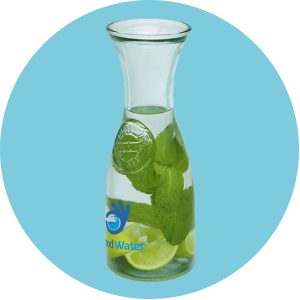 Authentic 100% Recycled glass is also new to the promotional market.  Sustainability is high on the agenda; whoever you are talking to, everyone wants to do their bit and make a positive effort to make a difference. This recycled glass is fully recyclable, so it completes the circle!  Even though they have been around a fair few years, they have only offered to the promotional market, and it's all made in Spain.  Kicking off with 3 introduction products, we've chosen the carafe to highlight as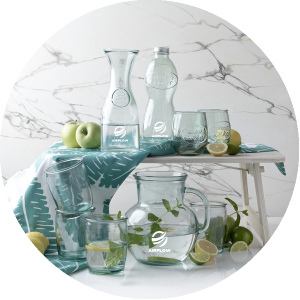 It's so versatile for home and workplace, water, juice, or wine!
Add a laser engraved or printed logo to this stylish design, and whoever receives this beautiful carafe will be proud to use it at home or in the workplace.
Click here to view the carafe.
View the full range here
Ideal for a client or team gifting and meeting rooms.
Made in Europe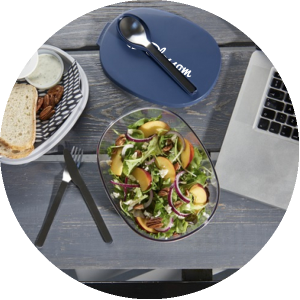 And last, but by no means least, we have a lovely little salad box!  It's time to start thinking about that summer vibe, eating alfresco in the sunshine, and there has never been a better time to encourage a healthy diet!
Many workplaces have said that the communal areas won't be back up and running for the foreseeable, so it's a great time to treat the team to their own lunch set.  A generous print area to the lid, the Salad box with a large 1300 ml transparent compartment is big enough to mix the salad at the time of eating. The top compartment offers space for bread or cutlery. Includes a small compartment for dressing or nuts. It's unbreakable and dishwasher safe and comes with an elastic band closure.   It's made from BPA-free PP and TPE plastic.
Ideal for high footfall offices, shops, and warehouses.   
Have a great week; fully of sunshine and positiveness, Sx