Team Pella are supporting Framework by taking part in The RUNga Run!
This entry was posted on July 21, 2015
Team Pella are taking part in a vibrant 5k colour fun run in the beautiful surroundings of Kelham Hall and Country Park in Newark on the 8th August 2015 to help raise awareness and vital funds to support homeless and vulnerable people.
Framework is a homelessness charity, based in Nottinghamshire, providing housing, support, training, care and resettlement services - opening doors to thousands of homeless and vulnerable people in the East Midlands and parts of South Yorkshire.
'Every day Framework see's the tragic effect that homelessness has on people's lives. It breaks down family relationships, takes away people's confidence and ultimately places individuals at the very rock bottom of society.'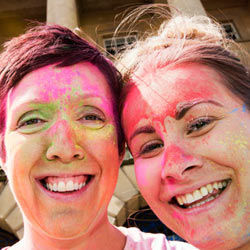 The Runga Run is inspired by the Hindu Holi Festival which is also known
as the festival of colours. Those celebrating shower themselves in environmentally friendly paint powder and use the festival to meet others, play and laugh, forget and forgive and repair ruptured relationships. The Word 'Ranga' (pronounced Runga) is the translation for colour or dye in Hindi. We will have colour powder thrown at us by the wonderful volunteers and supporting crowds, and will leave the event covered in bright colours.

We would really appreciate it if you could support Framework by donating to our JustGiving page or send us a cheque to Pellacraft Ltd.
www.justgiving.com/PellacraftLtd
Thank you!