TV Graphic Designer & Marketer Join Pellacraft
This entry was posted on October 15, 2015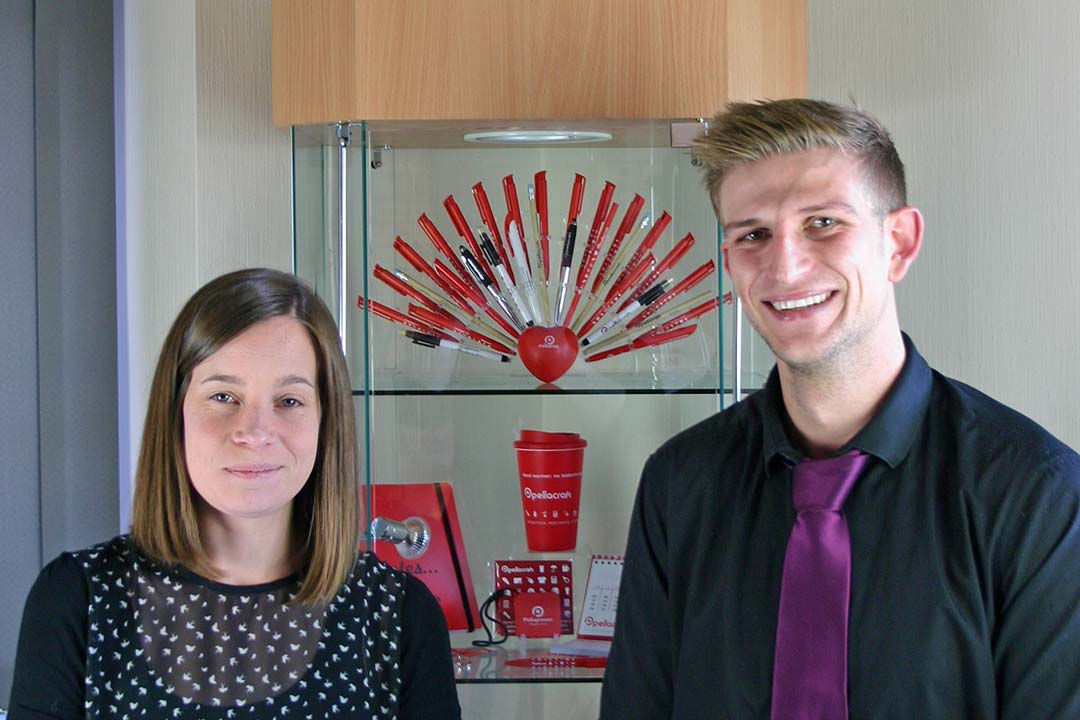 Marketing assistant Rebecca Coles and former drama and children's TV graphic designer Liam Morgan have joined promotional merchandise and business gifts supplier Pellacraft.
They are the fourth new recruits to join this expanding family firm since the beginning of September. The appointments follow an increase in orders and a desire to expand the business further across the East Midlands and nationally.
Rebecca, who lives in Edwalton, started her career in graphic design and has a BA Hons Degree in Graphic Design, from Derby University. She joins Pellacraft from Press Association Images, based in Nottingham where she was the Brand and Design Marketing Executive. In her new role, Rebecca will be responsible for putting together on and off-line sales campaigns targeting businesses in the Midlands and professional services firms with a regional branch network.
Commenting she said, "Pellacraft is a great family business, and I enjoy working in a busy and varied environment. With such a vast range of promotional products and a large number of promotional events in the marketing calendar I'm looking forward to the new challenge and working with a great creative team."
In her spare time Rebecca helps to run a non-profit successful folk, roots and acoustic music club in South Derbyshire, called Village Folk.
Liam Morgan has a BA (Hons) in set design for stage and screen and number of BTEC awards across 3D design and multimedia.
Currently living in Wakefield, Liam was previously a graphic designer for live entertainment and App work at Peel Entertainment where he worked on different BBC, CBBC and ITV dramas. He was also a concept artist for Cbeebies production and a storyboard artist for the Greenwich & International Festival depicting stunt team activities involving cranes and fire.
Commenting he said, "I believe great design follows a code and believe good designers can turn their hand to almost anything. I can't wait get involved in the exciting projects Pellacraft completes for their customers."
Liam is a fitness fanatic and was chosen to be a medal bearer for the Olympic and Paralympic games, presenting medals to athletes on the victory podium.