Top 5 Stationery Items and Favourites
This entry was posted on April 25, 2019
Discover our Top Five Stationery Items and Favourites...
Team Pella often get asked what our favourite stationery items are and the best items to give away. With National Stationery week, 29th April to 5th May, it presented the perfect opportunity to discuss stationery (not that we really need one), and more importantly, answer your question.
Now the difficulty is, we love it all! So, to tackle our top five stationery items, and before we could go any further, we cast our votes!
Fast forward to votes in, counted and verified, we were able to discuss the results and our favourites items for you. We hope you like our findings...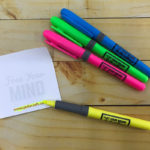 1st Place - Highlighters

Yes, this surprised us too! It turns out we use highlighters more than we thought. As we glanced across the office, we spotted an array of colour co-ordinated notebooks and highlighted sections of printed collateral jumping out from the desks!
From highlighting priorities to jobs complete, and meetings to name a few, highlighters are a much-needed tool, helping to bring colour and order to our day.
Highlighters are available in a great range of shapes and bright colours. Our favourite is the BIC Brite Liner Grip Highlighter, a highlighter version of the popular BIC Grip Roller.
2nd and 3rd Place - Pen and Notebook - A trusted partnership and on hand for when you need them.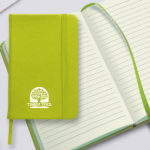 While most of our communication is done using a computer, laptop or device, even in a digital age we find it's the pen and notebook that gets us through the day and is still at the core of (nearly) everything we do…
Planning your day? Write a do to list!
A phone call? Reach for pen and take the details!
A meeting? Note taking is needed!
An idea? Quick, jot it down!
Shopping on the way home? Ooh, another list!
…And the list goes on!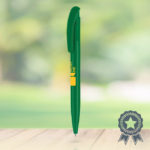 We also found, that we don't have a favourite notebook as such, instead, we have different notebooks for different things. An 'everyday' one for notes, planning and jobs, and a 'neat one' for meetings and all-important things, like passwords you shouldn't write down!
Our favourite 'everyday' one is the PP Colour Pad, while our 'neat one,' is the A5 Soft Feel Notebook. The PP Colour Pads offer a large branding area for your logo or message and are available in a range of colours to suit your brand, helping you to stand out every day. While the A5 Soft Feel Notebook, can be printed or debossed for an extra special feel, making them a great gift.
Our favourite pen is impossible to pick, so here's a few that really stand out, BIC Grip Roller, Senator Duo and Liberty. We also have some great eco-options, we love the Nature Plus, but the Super Hit Bio, recently added to our collection is coming a fast favourite!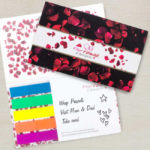 4th Place – Sticky Notes
It's great to see these in the top 5 and another product that is often underrated, but sticky notes are most definitely a desk essential! Handy for taking and passing on messages, sticking various reminders to our screens, or adding flags to our notebooks for reference.
Our favourite for your audience is the Adhesive notepad with flag booklet, small and lightweight they make great giveaways and are ideal for events and mailouts. The cover can be fully personalised as well as adding your logo to the sticky notes for double impact!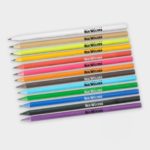 5th Place – Pencil
Last, but by no means least - the pencil! We decided the pencil is on hand to help when you're not quite sure and don't want to commit to pen. 'I'll just a make a note and write it in pencil' is usually the phrase or thought; once confirmed, it's either underlined, typed up or reinforced in pen.
Pencils also bring out our creative side, whether it's a sketch, a doodle, design or thought cloud, they're still a handy item to have in your pen pot, or spare mug in our teams case!
Our favourite pencil for your audience is the Recycled CD Case Pencil. Made in the UK and as titled, it's made from recycled CD cases, making them a great environmentally friendly giveaway.
So, there you have it, our top five stationery items and favourites for you. Using and relying on key stationery items daily highlights how effective they can be for your business; helping you to secure regular and repeated attention to your brand.
If you would like to discuss stationery essentials and how you can leave a lasting impression with your audience, get in touch and we'll be able to help. Call us on 01623 636602 or contact us via the website.