Top 10 Promotional Products For Marketing Managers
This entry was posted on September 21, 2018
Top 10 Promotional Products For Marketing Managers
Promotional products are an essential part of any successful marketing campaign having been used as a cost-effective marketing tactic for decades. Companies both big and small use promotional items to empower their marketing.
Marketing managers recognise the positive impact that promotional giveaways have on helping their businesses reach out to potential customers, helping them to develop their brand image and improve customer loyalty. Giving the gift of a promotional product to a prospect entices a recipient and enables marketeers to earn their trust. This often results in a better converting solution for lead generation and sales.
Below is a list of our top 10 promotional products for marketing managers that are on trend and make ideal solutions to enhance their marketing campaigns.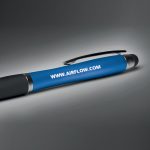 #10 Custom Ballpens
Usefulness is an important factor to consider when deciding on giving away a promotional item and pens are always handy to keep around the office. There are few similar affordable and effective ways to get your marketing message to land on a potential client's desk.
One of our best-selling trendy pens at the moment is the RioLight ballpen. It's a twist action pen with a rubberised grip, and a handy stylus for use on smartphones and tablets. It has a generous area onto which your branding can be added.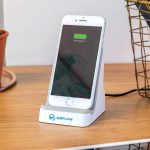 #9 Wireless Charging Stands
Mobile tech promotional products are constantly developing with the ever-growing rise of smartphones and tablets. One of the fastest developing sectors of mobile tech is wireless device charging.
Wireless charging stands offer marketers the perfect opportunity to get their brand in front of their customer repeatedly, the item being a much sought-after accessory that they will use time and time again. Our 5W White Wireless Charging Stands have a trendy modern style and are a quality product onto which any marketer would be proud to stamp their branding.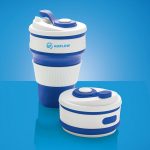 #8 Foldable Travel Cups
Promotional products that can be taken on the go are extremely beneficial to marketers. Not only will the recipient have a useful product that they can taken with them on their travels, but your brand will also be seen by people they meet, and passers-by along the way. This all helps to generate additional exposure for your business.
Our foldable travel cups are just one product in our range of products for use "On The Go", they are really funky and functional. Easy to carry, they will showcase your brand when in use. Once used they collapse into a pocket-sized disc, making it a handy travel item that will stay with the recipient.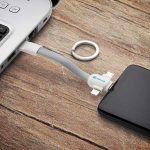 #7 Keychain USB Tech
With so much tech around in the office or out and about, it's always handy to keep a set of cable connections on you for transferring data across devices.
Marketers now have the option to promote their brand using this area of tech with the 3 in 1 Keychain Cable, which can be clipped to a set of keys or a belt. A very useful promotional item for the modern office worker or tech lover.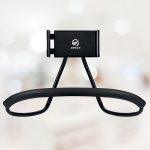 #6 Hands Free Phone Holders
Hands Free Phone Holders are ideal promotional products for marketing managers, this is a unique option will ensure your brand is seen on a regular basis.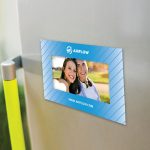 #5 Magnetic Selfie Frames
These customisable frames have a magnetic backing for easy attachment to metallic surfaces, such as fridges, cookers and cupboards. With the option for prospects to add their own picture into the frame, this gives them even more reason to the use the products generating repeat brand exposure for your business.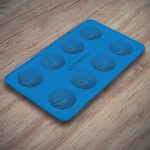 #4 Custom Ice Cube Trays
If you have prospects who love their iced cold refreshments, or if you're holding an event, then a branded custom ice cube tray may be the perfect promotional item to get them on board with your business.
Both the mould and the top of each tray can be designed to incorporate your logo. Each time they use their ice cubes they'll see your marketing message repeatedly as they drink!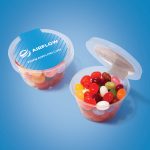 #3 Eco Sweet Pots
Eco friendly marketing meets the sweet tooth solution of confectionery with all new Eco Sweet Pots. Available in 3 different sizes, these delicious edible giveaways can help marketers give their prospects a tasty experience of what they can expect from their brand.
#2 Phone Accessories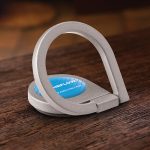 Mobile phones are a big part of everyone's day to day, for work or personal use, they're constantly with us!
Products like the all new Drop Ring will help to keep our much-loved mobile phone to hand. This anti-drop device consists of a ring which is stuck to the back of a mobile and acts as a safety mechanism, preventing the user from accidentally losing their grip and dropping their valuable device.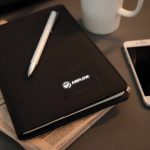 #1 Light Up Branded Notebooks
Display your logo in a completely unique way. What looks like a blank notebook will be completely transformed by an internal light which will light up your notebook, ensuring your brand glows bright and really stands out to the recipient. The notebook itself is functional with 128 cream coloured pages of paper to write notes on.
More Info On Promotional Products For Marketing Managers To Use In Your Next Campaign
If you have an upcoming event or marketing campaign and would like to know more about our range of trendy, top quality promotional products for marketing managers then give us a call today on 01623 636602 or visit our contact us page and chat to our friendly time using LiveChat.