Sustainable Recycled PET Umbrellas for UK Weather.
This entry was posted on March 15, 2018
An eco-friendly innovation for wet weather in the UK.

We all appreciate a well made umbrella in wet weather, especially one that doesn't let us down at the first gust of wind.  A branded freebie will ally users with your brand if it can get them from A to B, dry.
Did you know? The UK has rainfall for approximately 1/3 of the year, which is a great way to maximise brand exposure!
For those prudent about a branding message that sits with sustainability and recycling, the Promo Light and Pro-Brella FG offer a unique platform. Both are made using PET bottles which are processed and woven into unique GREENPLUS ® 100% recycled umbrella fabric.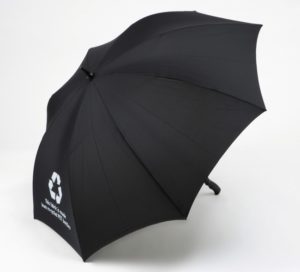 The Pro-Brella is a large 75cm wide storm-proof golf umbrella with black tips and point, and soft touch finger grip.  Large print areas enable creative branding for maximum impact.  You can be sure to stay dry for any occasion in all weather.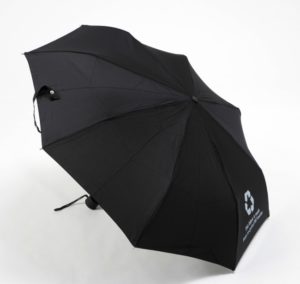 The Promo-Light is a smaller, lightweight version.  With soft-feel navy or black handle and chrome tips, branding can be applied to the fabric and/or a logo disk in the handle.  Perfect for a quick dash between train and bus stops, this umbrella fits into most handbags using its tailored sleeve.
Both umbrellas are available in black and they afford your brand to be a little greener without costing the earth.
Find out about the other options available for your brand on our previous umbrella spotlight here.