A Super New Pen for your Eco-Conscious Brand!
This entry was posted on March 19, 2019

We're pleased to introduce the Super Hit Bio Pen – a modern bioplastic version of the Classic Super Hit!
The Super Hit Bio is so super as it's made from sugar cane; a renewable raw material which is durable and biodegradable.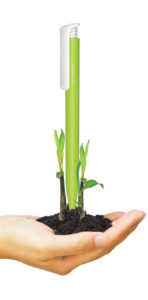 To make the Super Hit Bio, the sugar cane is processed into PLA, which is then turned into bioplastic granules. The pen is produced using 100% green electricity, with certified processes*, ensuring sustainable manufacturing is at the heart of its production, reinforcing its eco-friendliness.
Did you know? Sugar cane is very efficient compared to other materials such as maize. Sugar cane produces double the amount of raw material per area with less water required.
The Super Hit Bio also boasts a magic flow refill enabling the user to sign their name over 4000 times, providing your brand with maximum exposure.
After it's long life, the barrel of the Super Hit Bio can be composted in any compost heap, or even added to the plant brightening up your desk!
Research conducted at Marketing Week Live and B2B Marketing Expo 2018 revealed that 58% of respondents were influenced by the news and the impact of plastics on the environment, resulting in those looking for eco alternatives.
Available in ten colours with branding options to the barrel and clip, making the Super Hit Bio ball pen a great option for any eco conscious brand.
If you are interested in the Super Hit Bio ball pen, or if you would like to find out more about our environmentally friendly range, get in touch with the team. Call us on 01623 636602 or contact us via the website.
*Senator is ISO 14001 accredited, REACH and SEDEX registered and compliant, and a member of BSCI.