Reuse Bottles & Bags To Save Our Oceans
This entry was posted on July 5, 2018
One of the key issues that is affecting the planet currently is plastic waste, which is known to be causing serious pollution and harm to our natural environment. As the population swells and demand increases for plastic products, more and more waste is produced.
At Pellacraft, we aim to set the standard when it comes to caring for the environment. Over the past few years we have introduced many new measures to ensure we cut our plastic waste and help to reduce our carbon footprint. We are accredited members of SEDEX, and as part of this commitment, we aim to ensure that we actively encourage ourselves and our suppliers to take the right approach when it comes to things like taking care of the environment.
What Are The Facts About Disposable Plastic Bottles?
Each and everyday 100 million plastic bottles are used, and of these only 20% are recycled. This in turn means that 80 million plastic bottles are either sent to landfill sites or litter our oceans. Both of which end up having an increasingly negative impact on land and especially at sea, which endangers wildlife.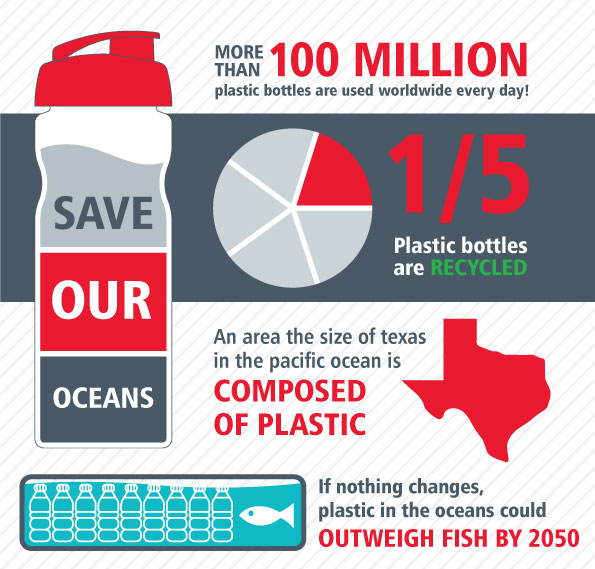 In most everyday scenarios, using a reusable plastic bottle can be used for a more environmentally friendly alternative. Thinking about everyday situations, here's a few suggestions on where you can use a reusable bottle, and become part of your daily habit rather than a buying one…
Taking lunch to work – Using a reusable bottle at work on your lunch instead of buying a plastic single use bottle from the shop will help you save money and help the eco system.
At your office desk – Most workers have access to drinking water, cordials and/ or soft drinks. It's easy and convenient to refill your bottle than having to buy multiple disposable ones.
Going out on a run or to the gym – Our reusable sports bottles have large capacities and a good grip, which is a handy solution when out on the go.
Unless we start to choose alternatives to disposable plastic, by 2050 there could be more plastic in our oceans than fish. There is already an area the size of Texas in the Pacific that is composed entirely of plastic.
What Are Businesses Doing Now To Reduce The Use Of Disposable Plastic?
Since the Government introduced measures to reduce plastic waste, companies have been working to find new and innovative methods of making their products, without using hard plastics. The suppliers we work with have made big changes to ensure they not only comply with the new regulations, but go above and beyond to help make a difference.
As a business, we take our own steps internally to reduce our own plastic waste. For instance, all our staff have access to a reusable drinks bottle and we recycle as much as possible.
Choose Reusable Bottles To Take Care Of Our Seas
To help look for a brighter future for our oceans and for the world, we have introduced a variety of different styles of branded reusable plastic bottles. Reusable plastic bottles make a simple solution that can be taken with you on the go, they can be refilled and used time and time again.
Our most popular reusable bottles include the H20 Active Base Sports Bottle 600ml and the larger 650ml, ideal for if you're out on the go, in the office or doing sporty activities. Durable and long lasting, you will be able to use your bottles time and time again, and for each time you use a reusable bottle, that is one less disposable bottle that is infesting our oceans.
Leakproof Reusable Cans Cut Back Single Use Coffee Cups
Its not just plastic drinks bottles that can have a big impact on the environment but the use of plastic disposable coffee cups is also a major concern. Reusable plastic travel cups such as the Senator King Can are multi-purpose and can keep your hot or cold drink leak free, chilled or insulated, whilst ensuring the environment is as protected as possible thanks to the use of reusable materials in its manufacture.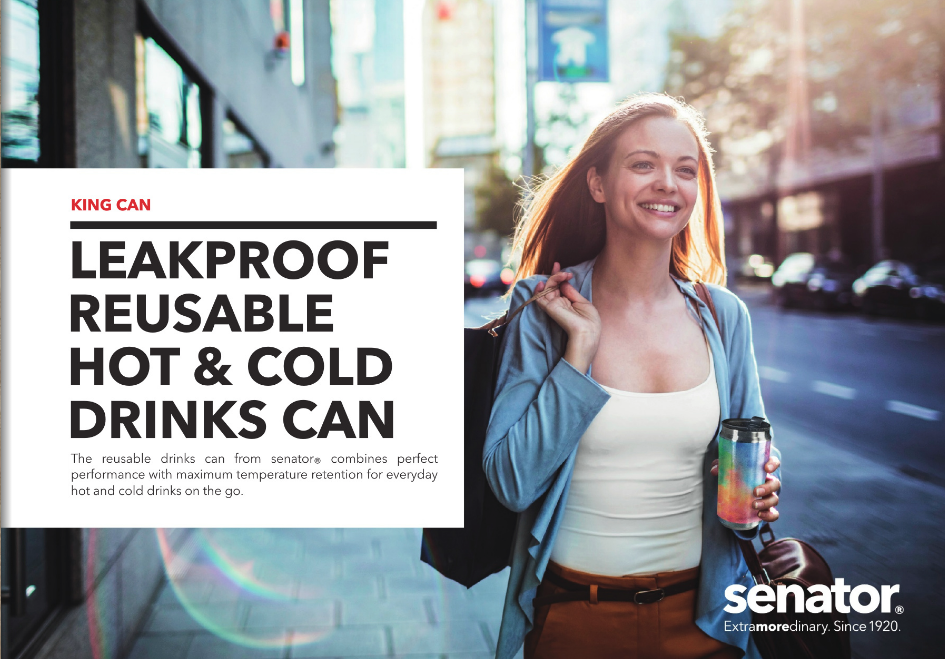 Go Eco & Help Stop The Use of Disposable Plastic Bags
As well as plastic bottles, there has also been a big focus on reducing the use of disposable plastic bags. As you may be aware, shoppers are now charged 5p or 10p for every plastic bag they buy from most stores. This has led to more and more people being encouraged to use reusable eco-friendly shopper bags.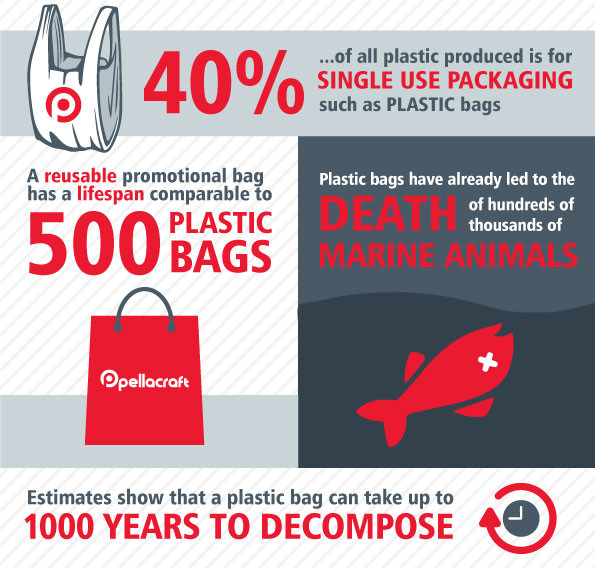 40% of all plastic produced is used towards single use packaging, like plastic bags which has led to the death of thousands of marine animals from pollution and death by other means like suffocation from getting entangled in the bags. If everyone used a reusable bag instead of a plastic single use one, then the amount of plastic produced would be reduced massively and the natural habitat would once again begin to thrive.
Reasons To Choose A Reusable Shopping Bag
Bags like our Mix & Match Cotton Shopper are designed with reuse in mind. But just what makes reusable bags so much better?
They're stronger - So can often carry a larger volume of goods than a single use plastic bag
They're more durable – 1 reusable bag has the same lifespan as 500 plastic bags.
Many bags are made with more eco-friendly materials rather than plastic.
Another popular choice is the Bayford Reusable Shopper. Made from polyester, it's a foldable shopping bag that can be tucked into a handy pouch. A lot of people still choose to pay the 5p charge because they forget to take their bag with them whilst out and about, but with the Bayford it can be neatly tucked into your pocket.
Making The Switch To Go Eco
If we are to save our environment and our oceans, then the time to act is now. Making a few changes can have a big impact, so if you are thinking of changing your habits and want to know more about more eco friendly reusable bottles or bags, then call us today. Corporate, social responsibility is very important and what better way to show that your business is responsible than by providing eco friendly gifts for your employees and clients to show commitment and create a positive message.