Promotional Mugs
This entry was posted on September 27, 2010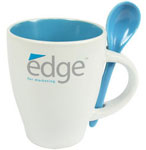 One of the best promotional items around
One of the most popular promotional products around are promotional mugs. Customers often like high quality promotional mugs which not only promote their business but also project them as a quality company.
Promotional mugs should be functional, provide brand recognition, and be durable to your needs.Promotional plastic mugs are ideal for customers wanting a cheaper option, but there are also many types of eco-friendly promotional mugs, made from recycled plastics and other materials. These mugs show your concern for the environment which is an ever increasing topic these days.
So if you are ever wondering what is a safe option regarding promotional products, you can do much worse than promotional mugs. A tried and tested promotional product.