Promotional Gifts For Festival-Goers
This entry was posted on June 4, 2018
Every year, thousands of people attend festivals, drawing huge crowds. Whether you are a festival sponsor or an organiser, this provides a great opportunity to get your brand recognised by a wide audience.
Help Festival Goers Get Prepared
Planning what to take to a festival can be hard work. Make it easier for festival goers with our range of handy essentials, including survival kits, solar powerbanks and torch keyrings, all of which are very useful promotional items that can be carried around with ease, or can be used as premium gifts to be sold or given away at festival events.
Powersun Solar Charger Powerbank
The Powersun Solar Charger is a solar charged powerbank that runs entirely on energy from the sun. This means that it can charge your phone and charge itself even when mains electric is not available. This is the perfect solution for phone charging where there is no means of charging your device or powerbank without using an electrical socket.

Festival Survival Handy Can Kit
The neat and handy Festival Survival Can Kit is useful if you have forgotten to pack any of those essential items. Each can includes a choice of items but typically includes a pack of tissues, hand sanitiser, toothbrush and paste, a lip balm and ear plugs.
Litop Torch Bottle Opener Keyring
Branded Litop Torch Bottle Opener Keyring with an LED light to help you navigate your way around the campsite at night. An attractive addition to your keychain that also helps to keep you safe. Multipurpose, this keyring also comes with a bottle opener attachment.
Braving The British Weather
The Great British Weather can be temperamental at best. One day we can experience a heatwave, and the next torrential rain. Help festival attendees get equipped for all eventualities with our collection of sunhats and sunglasses for hot summer days, and ponchos and wellington boots for damp, wet ones.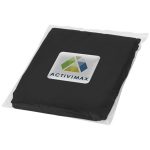 Disposable Rain Ponchos For Wet & Wild Conditions
Big festivals don't stop because of the rain, and neither should you. The Ziva Disponsable Rain Poncho is the ideal companion for when wet weather strikes. Simply apply it over the top of your existing clothing and it will keep you dry. Fold to use repeatedly and then dispose accordingly at the end of the festivities.
Eye Protection
Long exposure to sunlight, especially on brighter, hotter days can be very harmful to your eyes. Branded sunglasses protect the wearer whilst providing brand exposure whenever they are worn. We offer a variety of different models of sunglasses to suit any event and budget.
Handy for festivals, our Sun Ray Sunglasses with Bottle Opener are the ideal companion, protecting your eyes whilst helping to open your bottles of beer. Our higher tech, premium range of sunglasses includes our Bluetooth Sunglasses. Listen to music without the need for headphones and make/receive calls whilst still being able to hear your surroundings with these modern, innovative sunglasses.
Sunhats
Doctors are stressing more so than ever the importance of wearing sun hats and cream during hot weather. Our Bigola Cotton Sun Hat keeps heads cool and shaded, with a large branding area at the front for your company logo. We also have many other different styles of hats including baseball caps, snapbacks and panel caps.
Boost The Atmosphere With Promotional Items "For The Crowd"
Festivals are lively and entertaining, and no great festival is complete without happy, lively and eccentric people in attendance. Increase crowd engagement and enjoyment with our complete range of promotional gifts that are strictly "For The Crowd".
Whistles & Fan Accessories
Whistles, Bang Bang Sticks and Hand Waving Flags are part and parcel of British festivals. For the more reserved festival-goer, Air Bag Beds and Cooler Seats all offer a relaxing seating surface on which you can sit down on and watch the show.
Grab Your Promotional Festival Gear Today
Call our friendly team today to discuss your needs today. We work fast to ensure all your promotional products are ready and delivered on time for your festival. Let us take care of your branding needs with our free complimentary visuals and quotations.