Promotional Food & Drink
This entry was posted on July 13, 2010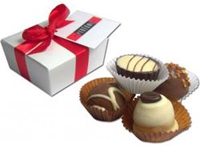 Promotional food and drink giveaways are great ways to attract an audience to your stand at the next tradeshow. Our food and drink selection has products ranging from small mint tins to drink cans, all providing a large print area for your details, making promotional food an excellent corporate gift.
A range of promotional sweets and confectionery could help satisfy those sweets tooth's whilst advertising your company. We have all seen the little mints tins and know how useful they can be just to slip into your pocket or to keep in the car for that moment you need minty fresh breath. The next time you see one they could have your details and design on, allowing your company to be know by a vast amount of people. These do not just have to be for tradeshows or conference events they could be used as corporate gifts to be sold.
For extra special corporate gifts we a range of unique promotional gift hampers. These are available with many different options to suits your needs or price limit. A gift hamper is also a great corporate gift that could be donated and raffled off. A brochure is available detailing all the hamper options, so please feel free to request one.
The Pellacraft Team.