Promote Your Brand With AR Promo
This entry was posted on September 10, 2018
We now live in a world where almost anything is possible when it comes to technology, and one of the newest innovations that is really on trend right now is Augmented Reality (AR).
AR promo software can be programmed to intelligently recognise real-life objects, and carry out an action on an AR enabled device when they encounter them. Such actions include loading a website, playing a video or downloading an app.
How Is AR Useful For Promo Marketers?
The invention of AR has brought promotional marketing and digital marketing much closer together. We now have the ability to allow customers to interact with promotional goods in the physical world, whilst also creating a branded virtual experience for them to enjoy on their device. The software we use to make promotional items AR friendly is called AR Promo.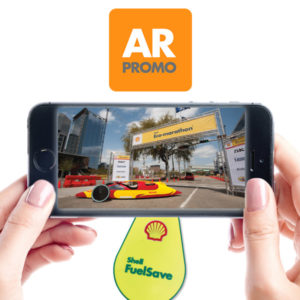 What Is AR Promo and Why Should I Try It?
AR Promo is an innovative app that allows companies to make their products magical. This intelligent AR app can be pre-programmed to respond to a product in a certain way when a smartphone or tablet camera lens is aimed at it. Customers are encouraged on an instruction guide placed on the promotional product to download the AR Promo App and interact with it using their device.
Once the user installs and loads the AR app, he/she scans the product and this promotes the app to complete an action. In the video below, when the product is scanned it automatically loads up a cool video all about the company from whom they received the gift.
AR Promo is useful as it enables marketers to not only build brand awareness through a giveaway, but the augmented reality and immerciveness of the media delivered directly to the user in the virtual world helps to build a deeper, more meaningful relationship with the recipient. This in turn has been proven to provide a greater conversion rate from perspective customers, and greater brand loyalty from existing ones.
How Do I Find Out More About AR Promo?
To find out more about AR promo, simply get in touch with one of our friendly customer service advisers today who can advise you further on we can work with you to help get the app up and running for your branded giveaways.
We can help supply it all, from the branded promotional products for your giveaway, to personalised instructions, and our team of creatives will work tirelessly to create immersive content for your customers to view on the AR Promo app.
Simply tell us your needs and we will ensure that your next promotional giveaway will be "out of this world" thanks to AR Promo.