Premium Branded Gifts with a Low MOQ
This entry was posted on October 23, 2019
Premium Branded Gifts for your audience.
Premium branded gifts, as you may have guessed are not your average giveaway. They step away from your 'standard' branded pen, notebook or power bank, that you may send to a larger audience for campaigns or use at events.
Research shows that two thirds of us like to hang on to promotional gift for more than six months, and 44% keep them for over one year. A branded gift that is high value, or perceived as higher value is likely to be kept and used for longer.
High-end gifts offer that little more and are available with low minimum order quantities, allowing you to gift to a smaller audience. Premium branded gifts can provide you with the tools to help make your business stand out and be remembered. Helping you to create that all important first impression with prospects, help to build relationships with existing customers, or to simply thank or recognise an employees' hard work and commitment.
Here we look at some stand out gifts…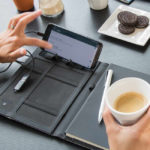 A5 Notebook with 16GB USB. Minimum Order Quantity (MOQ) 25 pieces. 
More than just a Notebook, this product offers an executive portfolio / folder style. It comes with a removable metal 16GB USB and includes a phone stand and gadget holders; an ideal gift for those customers or employees who you know are often on the go!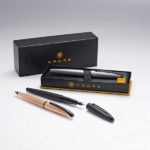 Cross ATX Ballpoint Pen. MOQ 50 pieces. 
Associate your business with a well-known brand such as Cross. Cross Pens provide contemporary and stylish writing instruments that can be personalised, meaning the recipient will treasure their gift for years to come.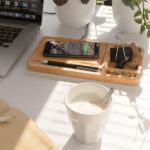 Bamboo Desk Organiser 5W Wireless Charger. MOQ 25 pieces. 
This is a great little gift for employees, and one that will take pride of place on desks. This organiser will be on hand to help your employees throughout their day to day. In addition, the gift will remind the recipient of their achievements and recognition in the workplace.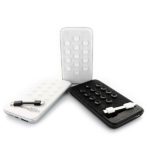 Squid Bubble Bang 5000mAh Powerbank. MOQ 25 pieces. 
Make your business shine and reinforce your brand! As well illuminating your logo, it's unique design allows the slim Power bank to stick to the phone, making it a handy gift to carry on the go, while helping the recipient to stay connected and providing you with the power to stay in touch.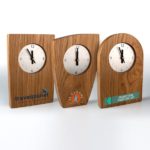 Real Wood Clock. MOQ 1 piece. 
Gifting a branded clock may seem like a traditional option, but it's still a popular choice when it comes to recognising an employees' long service, or as a gift to celebrate a company anniversary. However, these real wood clocks provide a modern look and wouldn't look out of place in any office or even home.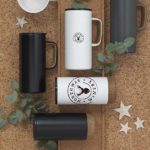 Mug and Tumbler Set. MOQ 10 pieces.
With the average person drinking six hot drinks a day, a branded drinks vessel provides a useful gift. We love this Copper Vacuum Gift Set which offers an insulated mug and tumbler. It's modern design makes it desirable gift, and one that the recipient will use time and time again; helping to raise your brand awareness in the process.
Get in touch!
The above are just a few examples of premium branded gifts that we can offer. If you have a product in mind for your prospects, customers or employees, get in touch and see how we can help. Call the team on 01623 636602 or contact us via our website and we'll get in touch with you!