Pellacraft Win Envoy Distributor Of The Year 2011 Award!
This entry was posted on January 12, 2011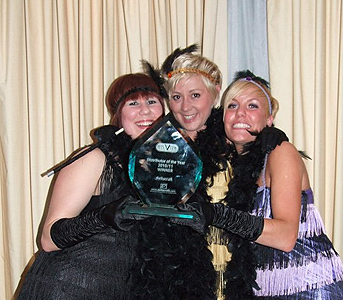 How time flies.
Here we are again one year later and as is customary the glamorous Pellacraft gals attended another Envoy catalogue launch which also included an award ceremony for Distributor of the year and again Pellacraft came away with the goods!
This year the Envoy launch was held in Nottingham and the theme was a 1920s Murder Mystery. Once again the Pellacraft ladies outdid themselves in the costume department, dressing up in classy Flapper outfits with full accessories.
Details are sketchy but rumour has it they were well behaved (?) and a credit to the company. We in the office though like to think that after a few glasses of wine they attempted the Charleston dance and then started a Bugsy Malone style pie fight.
The highlight of the evening was the award ceremony in which Pellacraft won the Envoy Distributor of the Year Award 2010/11 for the second year running!
We, of course couldn't have done it without our wonderful customers so THANK YOU all very much, you are fabulous.
It's nice to know that everyone's hard work and dedication over the last year has been recognised and we're glad we tells ya, glad!
So here is to another year of extra hard work.
Until the next one....