Pellacraft Win Envoy Distributor Of The Year 2010 Award!
This entry was posted on April 16, 2010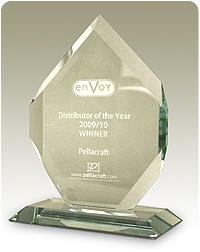 Yay Us!
This years Envoy catalogue launch was held for distributors and suppliers at the National Space Centre in Leicester. Along with the catalogue launch was the award ceremony for Distributor and Supplier of the year. And with the location having an out of this world theme, it was only fitting that everyone have a bit of fun by having a fancy dress contest too.
The Pellacraft girls went all out on their costumes, really getting into the spirit of things and looking fantastic as three sexy green sirens. The fancy dress competition was fiercely fought, with the crew of the Enterprise, most of the Star Wars characters including Luke Skywalker and Yoda and even Super Girl making an appearance. Dinner was an interesting experience for our Pellacraft girls as they shared a table with Darth Vader,
Chewbacca, Yoda and a Storm Trooper (we can only imagine what the conversation was like).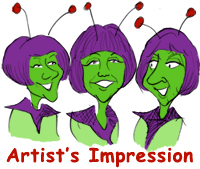 Unfortunately they didn't want their pictures shown on the website, so we have an artist's impression (left) of what they looked like.
Alas though they didn't win.
They were soon able to celebrate however when Pellacraft won the Envoy Distributor of the Year 2009/10 award. The culmination of a year's hard work and dedication by everyone involved, especially during these financially hard times.
Steve Pella, Managing Director of Pellacraft Said:
"I'm absolutely delighted with the news of winning the award for 2010! It is an honour to be recognized for all the hard work and effort that the whole team at Pellacraft has put in over the last year. We have a fantastic collection of suppliers and customers, and of course we thank you all for your help, support and business."
So here's hoping that we can continue to build on our success over the coming months and years, a big thank you to everyone involved and we hope to see you at the next Envoy Launch.
We can't wait to see what the girls go as next year.
Live long and prosper.