Our New Promotional Clothing Display
This entry was posted on November 23, 2011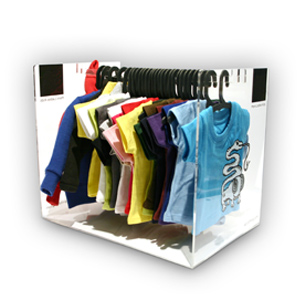 Our new promotional clothing samples have just come in for our new display cabinets. The new promotional t-shirt and jacket display contains a range of miniature samples of the clothing we can offer. The clothing uses the exact fabric and colours as the larger counterpart, each item has their own little hanger.
The new promotional clothing display will allow us to show potential clients the clothing we can offer and the different fabric types. These will help when clients visit, to get a better understanding of the clothing which bests suits to their needs.
The miniature samples are new space saving promotional items that we can have in-house that do not require vast amounts of storage. This means we can stock more samples in our showroom for clients visiting.
Why not contact us today to arrange a meeting.
Take a look at our huge Promotional Clothing range.