NEW - Full Colour Protein Shakermate
This entry was posted on May 14, 2019
Shakermate - Your new full colour shaker companion!
Made in the UK, the 700ml/24oz Shakermate can be printed full colour and has a range of 10 mix and match lid and clip colours, allowing you to showcase your brand in a vibrant and motivational way.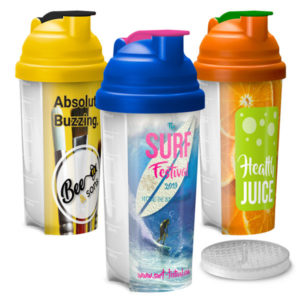 The Shakermate is designed for individuals that have an active lifestyle.
Protein shakes are becoming increasingly popular, with a variety of shakes and supplements added to programmes and regimes to help those who are looking to enhance their fitness.
The shaker features an integrated mesh mixer enabling the user to shake and mix their protein drink of choice. It's designed to prevent and reduce lumps in order to provide the user with a smoother pre or post-workout drink!
The Shakermate also features measurements to both sides (millilitres and ounces), enabling the user to measure and mix their supplement to suit their needs.
If your business is active and looking to enhance its exposure, then these full colour shakers are a great way of getting your brand seen on-the-go.
BPA Free. Dishwasher Safe.
If you're interested in the Shakermate, or if you'd like to discuss our range of branded merchandise to suit an active audience, then get in touch to see how we can help. Contact the team on 01623 636602 or contact us via the website or chat online.