Sweet Tooth? New Eco Sweet Pots Are Now Available
This entry was posted on September 9, 2018
Curb Your Customers Cravings & Leave An Eco Friendly Impression!

One of the best ways to draw your customers attention to your brand is to tempt them with a tasty treat that gets their taste buds tingling!
Your clients will be delighted with our Eco Friendly Sweet Pots, and you can relax knowing you are maximising your marketing, whilst also helping to save the environment.
Specifically designed to reduce the effects that harmful plastic packaging has on the planet, Eco Sweet Pots are made from compostable plant materials, instead of single use plastic. They even biodegrade in under 12 weeks!
What Choice Of Eco Sweet Pots Are There?
Sweet Pots are available in 3 standard sizes; Mini, Midi and Maxi. Smaller pots are the ideal way to organise an eco-friendly giveaway on a budget, whilst larger maxi tubs are the ideal premium gift for your most important clientele.
Once you've selected a size, it's time to choose a flavoursome filling. Tasty treats that can be put into our sweet pots include:
·         Skittles
·         Jelly Beans
·         Mint Imperials
·         Millions
·         Chocolate Beanies
·         Milk Chocolate Footballs
We Can Help Add Those Vital Finishing Touches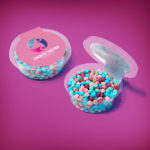 The final ingredient to kickstart your corporate confectionary giveaway is to apply a branded finish. We can help you to get the most out of your product with effective branding that ensures you leave a lasting impression!
Your logo and brand colours can be applied to the paper label wrap on the top and side of the pot, and whilst the product may degrade with time, the impression you have left on your customer certainly won't.
See Our Full Range & Contact Us Today
Eco Sweet Pots are just one product in our huge selection of eco-friendly products on our site, visit our full range here. Alternatively, you can always call for advice on 01623 636602 or enquire via LiveChat on our website.