Creativity for Branded Mugs: Evolution of a Mug
This entry was posted on February 6, 2018
Branded mugs are one of the top 5 Promotional items on desks in the UK and we delight in the joys of a lovely cuppa, whether that's good old breakfast tea with milk or a freshly ground coffee.
Welcoming guests into your workplace, your opening line is likely to include the offer of a drink.  It is ingrained in our social culture and enables better interaction with everybody.
People in businesses across the UK enjoy an average of 6 hot drinks a day.  A quick dabble into employment figures could indicate a whopping 40 billion hot drinks are consumed at work in the UK each year!
The variety and choice of drinkware has exploded in the promotional market ranging from insulated travel mugs, Americano or espresso size, glass, BPA free or recycled plastic.  However, the most popular is still a 10oz ceramic promotional mug.  Unlike travel mugs and other transient varieties, a ceramic mug will not stray far from one's desk or eye line.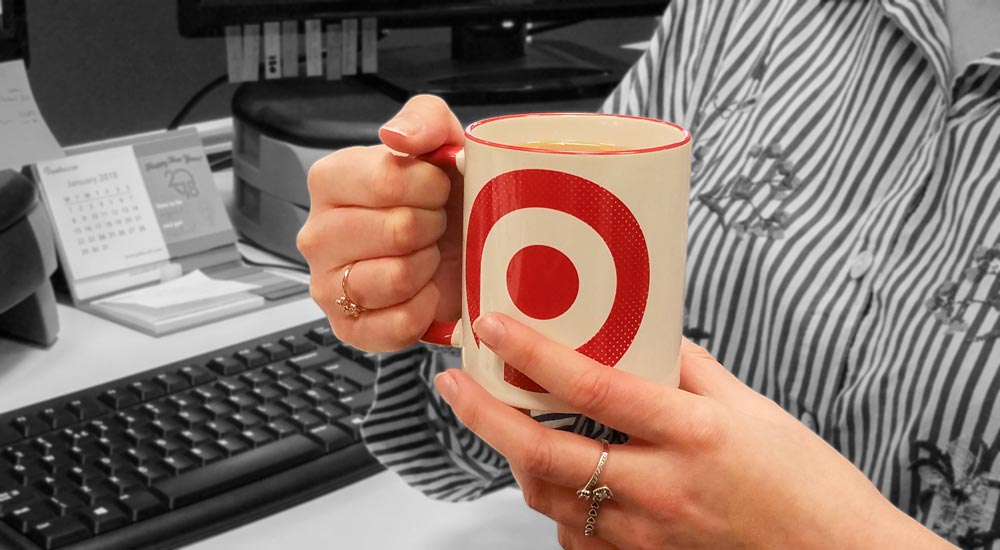 Mugs in Mind
So why spend part of your marketing budget creating promotional mugs?  That's easy!  People savour the refreshment of that comforting 1st sip.  Insert your branded mugs into their process, and your brand will make an impression, throughout the day to dozens of people.  What better association could be formed with your brand than one of reassurance and enjoyment.
The cost per impression on a promotional mug is one of the best value for money items you can choose.  The formula for this cost is:
Average cost of Mug ÷ Number of hot drinks a day ÷ Average working days per year = Cost of Impression
That's getting your brand seen and used for less than 1p per day!
A Creative Challenge

A promotional mug is terrific platform to showcase your message, because 100% of the product can be personalised according to your branding needs.
Photography, text and bespoke trim colours can be incorporated into your design to make it visually attractive and unique to your brand.  Specific slogans or clever imagery to entertain or inspire the user engage them directly with your message.
The only limit is your imagination!
So, is 'less' really 'more'?  In this instance, No! – The evolution of the mug has resulted in so much creative freedom, you can produce branded mugs that will reinforce your brand message and keep people talking about it!
Utilise Design Options to Fit Your Brand...
Consider your Content

It is easy to fall into the trap of forgetting that other people are not as familiar with your brand as you are.  There is little point giving a mug to a prospective customer, if it doesn't clearly show the services you provide or offer contact information.  Use your website because it is a portal to all your business information.
Branded mugs promote brand awareness internally too.  Therefore, apply messages that employees identify with and feel engagement, even staff pictures! Core company values add more value by incorporating practical reference information including your website.
Colour it Creatively
Consider inverting your logo to be white against the coloured mug.  The design options can be tailored to suit your brand, and in ways you may not have considered.
A promotional mug doesn't have to be plain white anymore!
If you have specific Pantone colours that are key to your brand, TruColour® print can be used on both the inside and/or outside, ensuring accurate colour reproduction and reinforce your identity.
Is your brand identity tranquil and sophisticated?  If you favour muted colours and simplistic type font,  you can still utilise all the design options with your colour palette and even include subtle textures as part of your print.
Graduating tones, shades and tints of colour are visually interesting ways to use your brand colours as part of your design.  Layer graphics, pattern or textures to create depth and interest.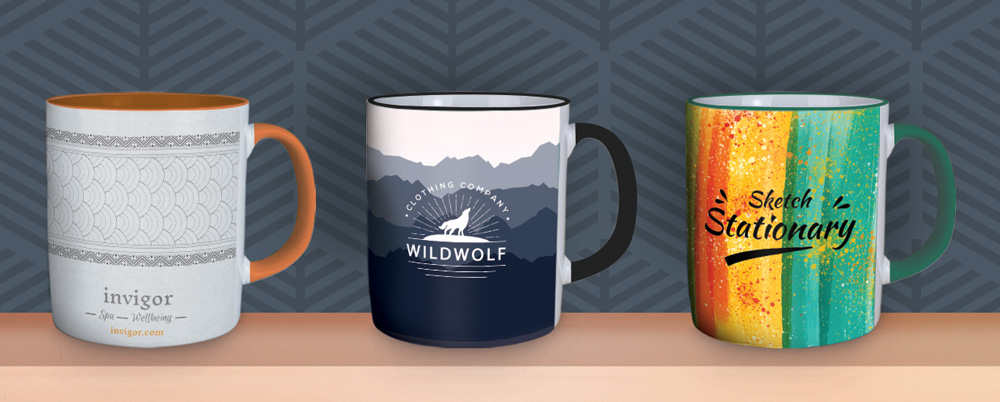 Here are examples of different design treatments using the same mug for production.
Design it Differently
Your mug design could be made relevant to your business by utilising the print to add texture and make your mug appear more industrial or organic.
Would it benefit from an attractive geometric print or artistic paint effect?
Does your business work with interesting materials or iconic tools that could be incorporated into the design?
What environment does your business operate in?
Use graphics creatively to add interest and value to your promotional items without stretching your budget.
Base printing enables useful information to be applied without compromising the main body design.  Alternatively use the base to print a surprise element, something to create a smile and catch the eye, even when the mug is drying on the rack!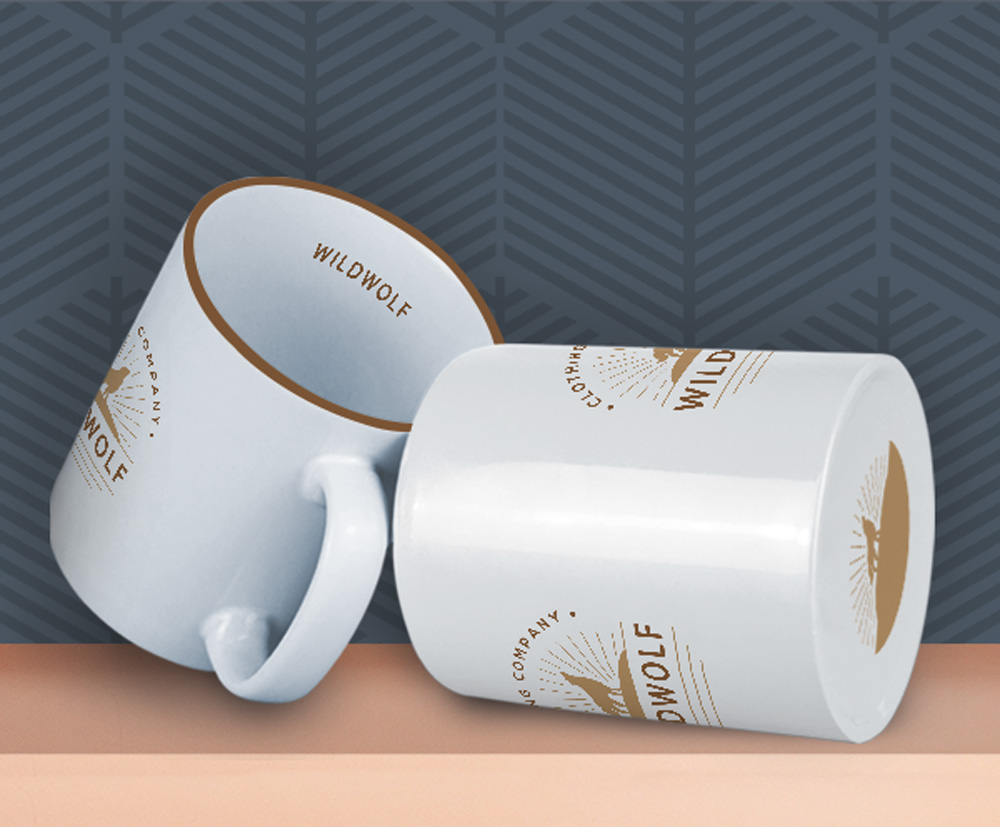 Printing inside the mug will draw the eye and get your message read every time it is revealed.  If you want to reinforce your message, this is an ideal stage for it!
So now you see, a branded mug can be so much more than you initially thought.  Allow yourself to think creatively and you might be surprised at the result.
It's the personal touches that count
When you receive your new promotional mugs, why not invest a few extra pounds in a box of individually wrapped tea bags or coffee sachets?
Present others with your brilliantly branded mugs pre-loaded!  This will leave a lasting impression by enabling them to be used right away.  It shows extra thought and care which is a great thing, right?!