NEW! Environmentally Friendly Branded Water Bottles
This entry was posted on February 19, 2019
Refresh your promo with Eco and Environmentally Friendly Water Bottles!
Eco and Environmentally friendly products are fast becoming must-have options, so we're excited to be expanding our Eco and Environmentally friendly range, with two new branded water bottles.
The use of single / disposable plastics has been topic on everyone's lips for a while and with good reason. With plastic bottles being at the forefront of the conversations we're excited to add, and tell you about these great new Eco-options. Let's take a look...
Here we see the Bio Bottle and Fuse Bottle with Fruit Fusion come together to create the Bio Fuse Bottle, with Fruit Infusion.
The Bio-Bottle is made from polyethylene and a revolutionary masterbatch additive. The masterbatch works by encouraging and supporting the bacteria present. Sunlight and heat do not affect the process, the composting begins in a landfill facility, it degrades naturally with the process taking 1-5 years.
The Fruit Fusion Fuse Bottle is 75% biodegradable and comes with a "fruit fusion" stick, allowing the user to add that extra boost of flavour and vitamins to water with various fruits and/or herbs. The Fruit Fusion is BPA free and is available with a choice of 'lid' colours.
The Shiva O2 is made from a renewed raw material – Sugarcane. 100% Bio-based material. Sugarcane is a renewable material that contributes to the reduction in greenhouse gas emissions!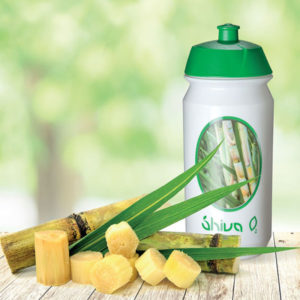 An effective method in helping to improve the environment, the process is quite simple; growing sugarcane captures CO2 from the air. Ethanol extracted from the sugar cane is used to make 'green' plastic that is 100% recyclable.
As well as the positive impact on the environment, the branded water bottles will provide a positive impact on your brand and help to reinforce your brand values.
The bottles offer a large branding area, allowing you to make the most of your logo, design or message. Durable and long-lasting the bottles will be used time and time again. From the office to on-the-go, bottles are a cost-effective item that will stand out, make numerous impressions and help to increase your brand awareness.
Branded water bottles are ideal for customers and employees, they will help to keep your audience refreshed, save money and reduce the use of single use plastic bottles.
Did you know? More than 100 million plastic bottles are used worldwide daily! That's at least 100 million reasons to consider an environmentally friendly option for your brand.
If you would like to discuss our range of eco and environmentally friendly options, contact us today! You can call us on 01623 636602 or contact us via the website or LiveChat.