Eco and Environmentally Friendly Pens and Pencils
This entry was posted on July 25, 2019
Environmentally Friendly Pens and Pencils for your eco-conscious brand...

Everyone needs some form of writing instrument, be it a pen or pencil. It's one of the reasons why they continue to remain as one of the most favoured and cost-effective giveaways. Whether it be on our desk, in our home or car, we usually have one pen or pencil to hand. It's very rare we can do without one, so it's great to see the number of eco and environmentally friendly pens and pencils within the promotional market on the rise.
While a couple of options have been flying the eco flag for a while, we're starting to see changes and improvements to materials and manufacturing processes to make more writing instruments eco-friendlier. So, with that in mind, here's a few eco and environmentally friendly pens and pencils we couldn't resist writing about...
Super Hit Bio Ball Pen
The 'newest' ball pen to our collection is the Super Hit Bio Pen; a modern bio plastic version of the much-loved Classic Super Hit.
The pen is derived from renewable and non-finite raw materials, sugar cane. The barrel of the Super Hit Bio is made of a PLA-based bioplastic making it durable and biodegradable. An ideal gift or give-away for your eco-conscious brand.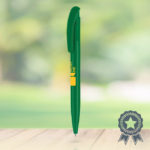 Nature Plus
One of our trusted favourites, and one that's been on the scene for a while is the Nature Plus Pen. This award winner offers a sleek design, with a four-colour print, again, the plastic is biodegradable and is available in a range of colours.
Litani Recycled Bottle Plastic Pen
Made from recycled single-use plastic bottles, this frosted pen is a great tool for your eco-friendly marketing. Single use plastic is a topical subject, so it's great to see something positive come out of so much waste, and it provides a good talking point for when you are handing them out!
Available in a range of colours, with a generous space for your logo.
Now, if it's a pencil you're looking for, it's eco friendliness is not something you may consider; afterall, they do tend to be made out of wood right? Well, you maybe surprised to learn, there's still ways to ensure you can provide a greener and sustainable pencil for your audience...
PEFC Wooden Eco Pencil
Made using certified sustainable timber, this HB lead pencil is topped with a silver ferrule and white eraser and with a full colour print you can ensure your brand stands out.
Recycled CD Case Pencil
Made in the UK and from recycled CD cases, these pencils are available in 13 popular colours and will certainly be a hit with your audience.
BIC Matic Ecolutions
An alternative is the mechanical pencil, it's cleverly engineered to provide a solid and resistant writing tool, made with 65% of recycled material. The BIC Matic Ecolution pencil offers a smooth writing experience, and it never needs sharpening! 

We hope you like our latest range of eco options, but if  you would like to find out more about our eco and environmentally friendly writing instruments, get in touch to see how we can help. Call us on 01623 636602, or contact us via the website.
Shop our full range of eco and environmentally friendly merchandise here.