Cotton Shopper Bags
This entry was posted on April 27, 2016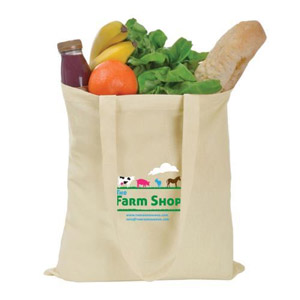 Now that more and more people are becoming environmentally friendly the humble cotton shopper bag has seen a real surge in popularity. They have become one of the most popular promotional printed bags available.
Benefits of British Made Promotional Items
Most are made from recycled materials
Used many times over long periods
Incorporates a large print area for eye catching designs
Made of quality materials
Stylish and fashionable
Companies have now started to take advantage of their popularity as they know that cotton shopper bags, unlike traditional carrier bags, will be re-used again and again. This increases the visibility of their logo, brand or message they have added to the bags. Plus it also shows the recipient that the company is serious about green issues and helping the environment, as most shoppers are made from recycled materials.
As the government puts greater pressure on supermarkets and stores to limit their carrier bag use more people are turning to the cotton shopper. This ensures that your logo or message will be seen many times over its lengthy lifespan by a huge amount of people.
"the humble cotton
shopper has seen a
real surge in popularity"
Cotton shopper bags are naturally very comfortable to hold and use. They are soft and even when fully loaded they are much more comfortable to carry than regular carrier bags, plus you get the added peace of mind knowing that they won't split at the most inappropriate time like the ever thinning supermarket carrier bags often do.
Show Off Your Message
The great thing about cotton bags is their great print area! The cotton shopper is a great platform for your brand or message as they are ideal for eye catching designs and vivid colours that will help get your message noticed. Cotton shopper bags are a great advertising platform for your company or cause and with their new found popularity and style they are a promotional item you should not ignore.