Competition success for Shirebrook Academy
This entry was posted on December 19, 2018
Design competition returns for another year...
Year 9 pupils from Shirebrook Academy in Mansfield have once again been challenged to showcase their creativity and design prowess by taking part in what has now become an annual competition, organised by business gifts and promotional merchandise specialists, Pellacraft.
The design competition began in 2017, and was the brainchild of former pupil, Laura Parsons who works at Pellacraft as a graphic designer. Last year, taking part in the competition was enjoyed by so many pupils and such a motivational success that everyone involved wanted to repeat the competition in 2018.
To maintain the integrity of the competition, the challenge was kept the same and participants were asked to design logo's and other visuals to 'promote your favourite place.'
The resulting designs had to be capable of being applied to promotional gifts supplied by Pellacraft and the winners and runners up would all see their designs on a gift-set of branded merchandise, including a T-shirt, a notebook and pen, bag and Power bank.
Pupils had to design three objects linked to their favourite place and were encouraged to sketch, paint, use photography or digital technology to create their award submissions.
The task was set and judged by Teacher Nick Freer, along with Laura and Leigh from Pellacraft.
The winner was Kasey Shaw for her 'under the sea' design, and runners up were Millie Hindley who chose the Maldives, Amber Bowen who chose Space, Kizzie Bottomley who picked Australia, and Ben Madeley who focused on Senegal. As well as their gift set, all winners and runners up were presented with a certificate and the winner offered work experience at Pellacraft.
Commenting on the competition Laura Parsons, Graphic Designer from Pellacraft  said, "Well done to all who took part. It is always hard trying to judge a winner, especially when you see the amount of time, effort and creativity that each pupil puts into their designs. Sadly, there can only be one winner, and Kasey should be really proud of her achievement. We now hope that this competition will become a regular feature of the school curriculum so that many more pupils gain the opportunity to express their passion for their most favourite place."
Here are some of the judges comments about each entry...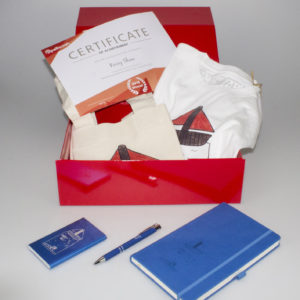 Winner: Kacey Shaw | Favourite Place - Under The Sea
Comments:
We have been really impressed by the whole body of work that Kacey has produced. The amount of effort that she has put into each part of the brief is outstanding. Her attention to detail, research and colour experiments are well thought out and you can clearly see the development of her ideas through her clear annotation. The time and effort Kacey has applied shines through in all of her work.
The final items that she has chosen to design work well for her audience and she has paid clear attention to the branding of her items, both colour and logo application. The presentation of her final designed items, each on an individual sheet, were well thought out and her annotations very clear.
A huge well done Kacey, the amount of time, effort and thought you have put in is outstanding. We are very pleased to offer you work experience placement.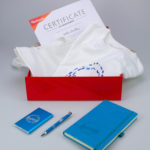 Runner Up: Millie Hindley | Favourite Place - Maldives
Comments:
Millie has taken great care with her research and design. We loved the type and media experiments that she has produced. The font she has created is very sympathetic to the location and works well in her branding. The attention to detail and effort she has taken to create items should also be commended. A great job Millie.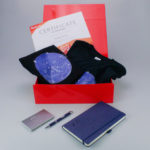 Runner Up: Amber Bowen | Favourite Place - Space
Comments:
We loved Amber's illustration and the presentation of her ideas throughout. The colours she has used are very striking and add depth to her designs. Using a minimal colour palette she has managed to create a bold and beautiful identity that stands out. She has a unique illustrative style that we hope you continue to build on. The logo has been well considered and thought about and her items have been branded with great care and attention to detail.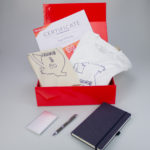 Runner Up: Kizzie Bottomley | Favourite Place - Australia
Comments:
When we first looked at Kizzie's work we could instantly recognise where her chosen place was. Her branding was very strong and worked well for her audience and place. Kizzie also experimented with her own font and incorporated this into her brand and design; this is very encouraging to see.
We were very impressed that Kizzie chose to make up her items to present to us. The effort and time that Kizzie has taken has really paid off. She shows clear understanding of how to brand her items, by looking at the placement of the logo and logo versions for smaller areas.
Well done Kizzie, you should be very proud of the high standards that you have achieved and the effort that you have put in.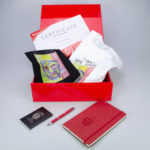 Runner Up: Ben Madeley | Favourite Place - Senegal
Comments:
Ben has a very strong illustration style and has produced some great experiments with type. The typeface you have created is very sympathetic to your place and works well alongside the colours and style of your logo.
Special Comments
Special mention:
Sarah Jackson | Favourite Place - Tropical Island
Sarah has produced a great body of work. We especially loved her stong artwork and imagery.
Special mention:
Maisie Ives | Favourite Place - Cyprus
Masie has produce some beautiful and impressive illustrations with great research and annotations.
Special mention:
Toby Mcdonnell | Favourite Place - NYC
Toby's logo was very well thought out. We were very impressed with how he combined type, shape and landscape into one graphic image and made them all work together. It is a very well formed logo and could be a very bold piece of branding. Toby shows great promise.
Special mention:
Madison Proctor | Favourite Place - Scandinavia
We loved Madison's illustration style and initial ideas. Again, shows great promise.
Special mention:
Lilly Jack | Favourite Place - Borehamwood
Lilly has thought about her designs in detail, produced some great ideas and annotated her work well. We especially loved the photos she had taken of the bag she had created in situe.