Why Choose Senator Pens?
This entry was posted on April 27, 2016
Senator has always been at the forefront of pen technology, they put a lot of thought and effort not only in how they are built but also in how the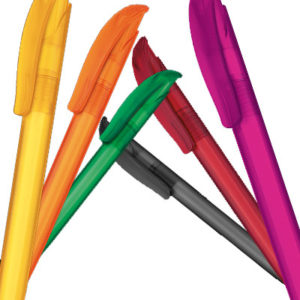 ink is applied. That's right; a great amount of resources go into ensuring that the ink delivery on your Senator pen is just right. Too much and you have a messy blob, too little and you may as well have not have bothered in the first place.
Pens as a promotional tool.
Senator realised very early on that their pens were ideal for business
both large and small that wanted to get their brand noticed. Printed pens
with company logos and branding are now one of the most common
promotional items found in any office, and in many cases, homes too.
When was the last time you used a pen that didn't have a logo or
some form of branding on it?
Promotional pens' popularity is due to their sheer usefulness and low price. Millions of people use pens on an almost daily basis and it is for this reason that makes the humble branded pen a powerhouse of advertising.
Senator Challenger Icy
One of Senator's most popular pens is the Challenger Icy. We at Pellacraft love this design and can see why it has been one of our best selling promo pens. It's comfortable to hold, has just the right weight and more importantly it has a great print area for company logos or branding.
One of Senators most popular models
Matt translucent barrel
Large curve plastic clip
G2 super large capacity refill
Large print area for your logo
Available in multiple colours
Promotional pens have a great ROI (return on investment), their low cost and large quantities make them more cost effective than any other printed advertising media. Promotional items are also the best advertising medium by far for getting people to take action!
Don't get left behind
So if you are still sitting on the bench when it comes to which promo product to choose for your advertising campaign, make sure you take a look at Senator pens, we know you won't regret it.