Branded Products for Road and Winter Safety
This entry was posted on November 18, 2019
Help your audience to stay safe in the dark!
As the dark nights are now upon us and the winter commutes begin, safety is always at the forefront of peoples' minds.
Travelling is an essential part of everyone's day; whether it's heading to the office, a learning environment or if the road is your workplace, staying safe is more important than ever as the conditions become more challenging.
Here's some ideas that can help with your Road Safety and Winter initiatives...
Reflective Wear
Reflective wear is one of the best ways of being seen. From high vis to reflective bands, we have a range of products that comply to safety regulations.
Did you know? It's compulsory for reflective wear to include a production date. Like many items they all have a shelf life and high-vis, reflective wear is no different. The length of expiry isn't exact as it depends on how often the item maybe used, but it's an important factor to keep in mind.
Cycling  
Standing out on the roads is vital, so branded reflective wear, bag and bike accessories can all help with this. If you have a cycle to work scheme, then these could be a good way of reinforcing your safety messages.
Lights are one thing cyclists should not be without, regardless of what season it is, they should be a must! Ideally lights should be secured to the bike at all times, we can offer bike light sets or clips, available in white or red. For added visibility, we have lights that can be attached to bags or clothing.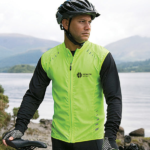 Bike wear - Trying to convince your audience of swapping their favoured jacket or top to one with safety features could prove tricky but these Gilets are ideal. The tops can be worn over the cyclists own clothing, ensuring the recipient (and your brand) stands out!
A LED Light Backpack is another practical way of getting your safety message across. Many cyclist will need to carry work books, lunches, personal items and a change of clothes, so it's a great way of ensuring they have all they need, with a built in safety element. It's a cost effective product that isn't restricted to the bike, meaning it can be used even if the bike stays at home!
On the road
Commuting to work by car is one of the most popular forms of transport, not to mention those that drive for a living. Roads are busy places and difficult conditions can be testing and for our vehicles too; it's not just us that doesn't like the cold! Remind your employees about staying safe this winter and letting them know you are there for when they might need you!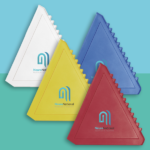 For many an early morning start means getting rid of the frost; it's not only dangerous to have low visibility but illegal. A simple ice-scraper is a cost-effective way of ensuring your employees start their day safely.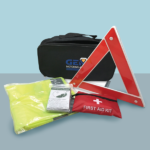 Once out on the road, car safety sets can provide a reassuring gift. This car safety set contains a warning triangle, hi-viz vest, emergency blanket and basic first aid kit. In an emergency employees will need to call for help, this car emergency tool provides a 2200mAh Power bank, USB car charger, belt cutter, safety window breaker, LED torch and red flashing emergency light.
Walking to work or school
The darker nights can also bring risks to pedestrians. Wrapped up in dark winter coats, hats and scarfs, or huddled under an umbrella makes it harder for us to be seen, especially in areas that might not well lit. While we can't see high-vis jackets making a fashion statement, a few reflective accessories added to bag will help to stand out! This reflector light with a carabiner can be clipped to a bag or jacket, it also functions as an LED light.
As the nights close in, usual routes may take on that feeling of unease. Feeling safe is important, and this protection backpack or protection charm can help to offer reassurance.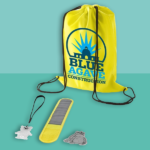 For a younger audience, we have a five-piece child's safety set which includes, a safety vest, monkey sticker, reflective bear with strap, arm band and rucksack.
We hope the above has given you some ideas that could support your safety schemes and initiatives. If your would like to discuss any of the items further, or if we can help with your campaigns, get in touch to see how we can help.
Call the team on 01623 636602 or contact us via the website and we can drop you an email or call back.