Branded Merchandise To Promote Health & Fitness
This entry was posted on September 26, 2018
Having reached a big birthday milestone, Pellacraft Director, Sam Pella, has been spurred on to do 40 challenges – partly to get fit, and partly to raise money for charity. So, when we realised that Wednesday 26th September was National Fitness Day, it seemed appropriate to get on-board to promote it.
The benefits of regular exercise includes a healthier heart, increased well being, and a better quality of life. The aim of National Fitness Day is to engage people to participate in exercise by encouraging communities, schools, workplaces, health and fitness clubs, parks, leisure centres, and gyms across the UK to help provide activities for public participation.
Research also shows that if you exercise in company, you are more likely to stick at it, so we've highlighted below some of the more popular fitness orientated branded merchandise that can be given to your employees or your customers as a great way to promote your company brand, whilst also aligning to a healthy lifestyle message.
Branded Merchandise - Sportswear & Accessories
Pellacraft has a wide range of sportswear and accessories which can be personalised.
H2O Active: Base® Sports Bottle 650ml
One of our bestselling drinks bottles, the 650ml Customised Base Sports Bottle is ergonomically designed. Due to the large branding area on the main body of the bottle, which can be in up to 4 different colours, it is ideal for branding and conveying key messages.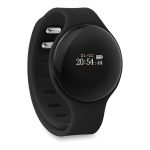 Round Bracy Sport Smart Bracelet
The ideal wristband for the sports conscious. It has the ability to track steps, calories, kilometres per day and sleep. It also has an alarm mode, pedometer function and income calling notice.
Universal Sport Belt
Being active means avoiding baggage and clutter. This lightweight and fashionable sport belt is made out of ultra-thin elastic fibre and has a waterproof coating and zipper to keep valuable belongings safe and dry.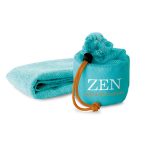 Fitness Towel In Mesh Pouch
This handy branded fitness towel fits snugly into its tiny carrying pouch and is the ideal way to dry off and feel fresh again after a fitness work out.
Can We Help Convey Your Company Brand And Fitness Message?
If you would like to chat about how fitness products and accessories can help promote your brand, please get in touch with one of our friendly custom service advisers today via phone on 01623 636 602 or via LiveChat on our website.