Christmas Gift Ideas for your Business
This entry was posted on September 19, 2019
Have you started your Christmas shopping yet?
We know it's only September and the talk of Christmas maybe too early...but when it comes to branded merchandise and gifts, it's important to get ahead and know what's about.
Whether you're looking for promotional items for a seasonal campaign, an event or gifts for customers and employees; we have a wide choice to suit all occasions and budgets.
Gifting a gift at Christmas provides a good opportunity to get in touch. It's a good way of affirming relationships with customers and thanking them for their business, while reminding them that you are there for the year ahead. For employees, seasonal gifts can help to bring your team together; thanking them for their hard work and showing that you're looking forward to what can be achieved in the coming year. Alternatively, you may be looking towards a seasonal campaign, or event.
Whatever you have in mind, a branded gift to can go a long way in helping you to engage with your audience.
We understand shopping at Christmas can be a stressful time, and that's excluding gifts for loved ones! Searching for suitable gifts and finding them within budget can often take time out of your already busy schedule, especially if you're looking for a mix of gifts to cover all basis!
To make your search easier, here's our Top Christmas Gift Guide for 2019!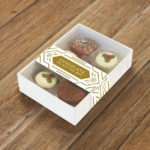 Chocolate
- Who doesn't love chocolate? It's a big crowd pleaser!
From individual branded chocolate gifts to office sharing tins and hampers, chocolate covers a wide range of options and budgets to suit your audience.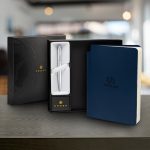 Notebooks
- Prepare your audience for for the year ahead with branded notebooks.
If you're looking to impress, then we can offer premium brands such as Moleskine and Cross. This Cross Journal and Pen Set is a particular favourite!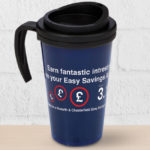 Thermal Mugs
- Send warm seasonal wishes in the shape of a Thermal Mug!
It's a great gift that will be used time and time again by the recipient, but one that will also help to raise your brand awareness.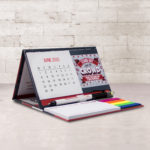 Calendars and Diaries
- A cost-effective gift that will get your brand seen throughout 2020!
The Calendarpod Midi provides more than just a calendar, with it's duo pen, sticky notes and index tabs it becomes an essential desk accessory!
Alternatively, if you're looking to promote a Christmas campaign, we have some great advent calendars to help get your message out!
Christmas is a demanding time for all, so Power banks are perfect for staying connected throughout busy periods. Wireless items are also proving popular, especially ones with eco elements. This bamboo desk organiser and wireless charger is one that certainly stands out.
Branded clothing is a perfect way of getting your business seen on the go; whilst ensuring your employees are fully equipped for the cold. From Jackets, Knitwear, Hats and Scarfs - we've got you covered!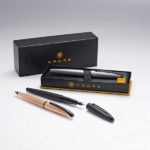 Pens and Sets
- A trusted partnership!
Branded Parker and Cross Pens will add a bit of style to your customers or employee's stationery. Premium quality pens that offer timeless designs provide desirable gifts for your brand.
Christmas is a hectic time, so why not help your audience to relax with a range of health and well-being products. We have Bath Sets, Handy Cans filled with Pampering Essentials and Blankets to name a few! Alternatively, if you're holding a Christmas event then these hangover kits make great giveaways, although we always recommend responsible drinking, which leads us to our next product!...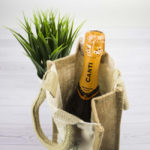 A bottle of something
- Drinks all round!

Wine, accessories and sets are always popular, but it's not everyone's tipple! If you know what your audience enjoys, then why not consider branded bags and include something that suits the recipients taste, making it more personal to them. The bag will also remind the recipient who gave them the gift when they come to enjoy it!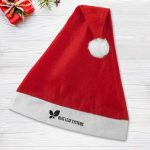 Festive Fun
- Associate your brand with the good times!

If you're business is looking to show off it's fun side, we can offer a range of Christmas themed goodies! Santa Hats, Christmas baubles, and bunting are just some of products available, helping you to get your audience into the Christmas spirit.
Can we help with your Seasonal Marketing and Christmas Gift List?
We hope our list has provided you with a little seasonal inspiration! Get in touch and see how we can help with your Christmas branding needs. Call us on 016236 636602 or contact us by email or LiveChat via the website or request a call back.