Stand out this summer with branded drinks bottles!
This entry was posted on August 23, 2019
Get your business seen this Summer (and beyond) with branded drinks bottles!
Ahh Summer...we long for the hot sunny days, and when they arrive, you can guarantee it's "too hot", but hey, that's the Great British summer isn't it?! …Too hot for when you're in the office, rainy BBQs when you're out of it, plus a range of events and festivals that can go either way you go past caring! However, one thing we must all do more of in summer, no matter where we are, is to stay hydrated; and this is where branded drinks bottles can provide a clever marketing tool for all.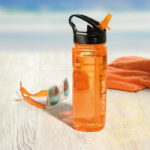 Whether it be a hot or cold drink; having a bottle to hand makes it much easier to keep re-fuelled. From the home to the workplace and everything else in between, a branded drinks bottle is a useful item to have, and one the recipient will want to keep.
Branded bottles are a cost-effective item for raising brand awareness, generating visibility for your business at events, as well as helping with workplace initiatives when it comes to encouraging staff to drink more. Let's not forget the eco benefits too! ...helping to reduce the use of single-use plastics by encouraging your audience to fill-up rather than throw-away!
Now, we know we have a vast range of branded bottles, and with so many options and newcomers to the market, we appreciate it might be a little daunting when it comes to finding the right one to suit your needs.
If you're considering a branded bottle for your business, then here's a little guide as to what's available...

Budget
If you have a limited budget then this 500ml Sports Bottle is a nice option. The bottle has a good print area and offers a wide range of colours for the body and cap.
Plastic
For something a little different, then these Fruit Fusion Bottles stand out. They come with a 'fruit stick', allowing the user to thread pieces of fruit onto the stick for a bit of added flavour. The bottle is available in two colours, with a good choice of lid, ring and stick colours to compliment your brand and design.
Recyclable
One of our best-selling reusable bottles is the H2O Active: Base® Sports Bottle, made from recyclable PET material. It's available in a selection of colours and presents a great branding area. It offers 3 different lid options, domed or flip, which are available in a wide range of colours, or if you opt for the the spout, this is available in black or white only.
Biodegradable
We have a good couple of options here! This Natural water bottle is new to the market and offers a contemporary design. It's made from sugarcane, and the lid bamboo, making it fully biodegradable. For more of a sporty look, we have the Shiva Bio-bottle; again, it's biodegradable, this time it's made from polyethylene and a revolutionary masterbatch additive. Both provide good branding areas to promote your business.
Metal
While you may associate metal drinks bottles with hot drinks, they're also great for keeping cold drinks cold! This Oasis bottle is available in black, silver or grey, offering a premium look and finish for your chosen audience.
As you can see, there's a great choice of  bottles to choose from! I hope you have found our little round-up useful and it's provided you with a few ideas on the types of branded drinks bottles available.
If you need any help in finding a suitable bottle for your business and budget, then get in touch and see how we can help. Call us on 01623 636602 or contact us via the website.
To shop the full range of branded drinkware, shop here.