Branded Calendars and Diaries for 2020
This entry was posted on September 12, 2019
Get your brand seen in 2020!
It's that time of year again! Yes, that's right…it's time for us to take a look at branded Calendars and Diaries.
Why gift a calendar or diary?
Well, branded Calendars and Diaries are the perfect gift for getting your business seen on a daily basis. They allow you to advertise your business and message throughout the year, helping to secure that all important desk, wall, pocket or bag space, for potentially less than 1p per day! Proving to be cost-effective gifts for your audience.
And don't be put off by the digital world...owning a physical calendar or diary is still proving to be a popular and practical gift.   
What Branded Calendars and Diaries are available?

1. Wall Calendar - A great way for your brand to stand out in an office, the calendar provides a gift that can be seen and used by all in the workplace.
2. Smart Wall Planner - Help your customers to get ahead in 2020! These planners are good for bringing teams together; helping them to plan and get excited for the year ahead, whilst drawing attention to your brand!
3. Desk Calendar - Stay on desks and in customers minds! Secure advertising space throughout the year and get your business in front of your customers and prospects.
4. A5 Daily Diary - Be seen daily and help your audience to get through their day.
5. Weekly Pocket Diary - A mobile alternative, this handy little diary is easy to carry and will help your audience to stay on track from week to week.
Looking for something a little different?
Stepping away from the traditional presentation, here's a few alternative options...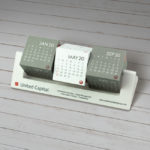 Suspension Calendar
A fun desk calendar that will get your audience spinning into 2020!
Spread your calendar design across the blocks and let your audience find out more about your business.
Calendarpod Midi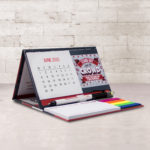 - a firm favourite with us here at Pellacraft, and you wouldn't find any of the team without one!
The Calendarpod Midi is extremely generous with its branding areas which include, the inner and outer cover, 12 calendar sheets (although you can add more if you want to get ahead of your competitors), Senator Duo pen and sticky notes. As well as boasting good branding options, the sticky notes, pen and index tabs add to its value and make it an exceptionally useful and cost-effective desk accessory!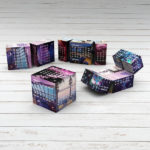 Magic Cube
While it doesn't perform any magic tricks, this cube is a great promotional item that will engage with your audience. The cube offers an all over print, allowing you to add a calendar design of choice. It's a great little product that your audience won't want to put down!
Winter Survival Kit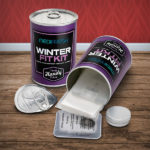 Make it more than just a survival kit, by transforming it into a calendar! By applying your calendar design to the outside of the tin, it will transform it into a handy new pen pot for the recipient; securing prime space for the year ahead. The kit includes a pack of tissues, hand sanitiser, heat pack and lip balm.**
Calendar Tin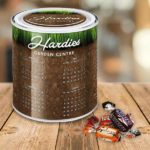 A tastier version of the above is the Calendar Tin, while we recommend you don't eat the tin, you can fill it with a range of tasty treats such as, Celebrations, Skittles and Jelly Beans to name a few. Unlike the traditional advent calendar, you can eat the treats all in one go, without feeling guilty!
However, if you and your customers have more restraint than us when it comes to the much-loved advent calendars, we have a great range of those too!
Ensure your audience are covered year after year by adding your logo to this luxurious soft touch Tucson diary cover.
It provides a high quality look and finish, with a clasp closure and detailed stitching. It comes complete with a diary insert, ribbon marker and wooden triangular pencil that can be slotted into the pen loop for extra convenience. The inserts feature FSC ecological paper, sourced from sustainable forests.
If you would like to stand out in 2020, get in touch to see how we can help with your branded calendar and diaries. Call us on 01623 636602 or contact us via the website.
View our full range of branded calendars and diaries here.
Don't forget the changes to Early May Bank Holiday!
The Early May Bank Holiday for 2020 has been moved to Friday 8th May to coincide with the VE Day Anniversary. As the majority of diary inserts are already pre-printed with the original date, we'll be making sure your artwork and templates are up to date wherever possible, but please don't forget to check any orders!
* Extra costs for added sheets will apply.
** Other contents available, or you can create your own!