BIC®
This entry was posted on January 15, 2020
A trusted brand to promote yours!
BIC® is a well-known global brand that was founded in 1944 by Marcel Bich and Edouard Buffard in France. It wasn't until 1957 when Marcel Bich, acquired Biro Swan, a leading pen company at the time, found its way to the UK and Ireland, and it's made an impact that's worth writing about!

Did you know? 20.3 million BIC® Stationery products are purchase every day worldwide!
The most famous pen would be the BIC® Cristal Pen that we all know and love – a long-lasting, affordable pen that has made its way into schools, homes and offices across the world.
Skip forward from 1957 to the present and BIC® are still leading the way when it comes to writing instruments. While the classic pens remain, such as the 4-Colour Pen (originally launched in 1970) Media Clic and Stic, their sense of responsibility and sustainability are clearly still at the heart of what they do; developing an eco-range of their best-selling pens as well as their commitment to a sustainable development program. These reasons alone are why they are one of our most trusted suppliers when it comes to promotional writing instruments.
Making a difference
BIC® believe in making a difference and how they conduct their business matters. Their sustainability program focuses on five ambitions capturing their vision in their message of 'Writing the Future, Together'. However, they already boast a range of CSR based awards for sustainability, and have been granted gold recognition level by EcoVadis; and like us are a part of Sedex.
As mentioned you can still get your hands on their classic pens, however, their Ecolutions range is growing. This means, all of the best-selling ballpens from BIC® are available in recycled Ecolution versions. The most recent addition is the BIC® Media Clic Bio.
Media Clic Bio Ballpen
The barrel is 100% biodegradable, while the clip is 100% recyclable, making it a great eco-friendly giveaway.
Round Stic Digital Ecolutions® Ballpen
With its classic design it's easy to identify as a BIC pen! It offers a 360º full colour print area, delivering an effective way of getting your message across.
Evolutions Ecolutions® Pencil
This wood-free pencil is manufactured from yoghurt pots and fridges, like the Stic Digital it offers a 360º full colour print area to make the most your message. It's resin material also means it wont splinter in the event of a breakage, so it's ideal for schools and organisations.
Adhesive Notepads Ecolutions®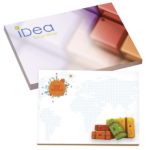 As well as their reliable pens, BIC® also offers a wide range of adhesive notepads and sticky notes. These adhesive notepads are made from recycled paper and can be fully branded with your logo and design, making your business indispensable in any office! 

If you would like to add your brand to a BIC® product, call the team on 01623 636603 or contact us via our website.
Do you know your recycled from your bio?
Recycled – plastic that has been reprocessed from recovered material from industries or products that would have been disposed of.
Recyclable – plastic that can be collected, processed and returned to use in the form of raw materials or new products.
Biobased – a plastic where at least part of the content comes from renewable biological or agricultural materials.
Biodegradable – a plastic that is designed to degrade under compost conditions.
Did you know?
BIC® has partnered with Treedom, meaning they contribute towards the creation to the BIC® Forest in Kenya, based on products sold.
The initiative supports agro-forestry projects; helping with land management, promoting farming amongst the communities in growing many species of fruit trees; all helping to support their working conditions and independence. Not only does the initiative help the communities, it also helps the environment with 501 trees planted to date.
They are also in partnership with Plas Eco®, creating outdoor furniture made from recycled pens and other stationery products!