BIC® biodegradable, eco-friendly and recycled pens
This entry was posted on January 15, 2020
A trusted brand to promote yours!
Consider biodegradable pens, 100% recycled writing-tools and sustainable packaging for your next purchase.
It's 1944 and France is on the brink of survival. World War Two has shaken the world and in time of uncertainty, new ventures find it difficult to survive. There is however an exception. Marcel Bich, a humble production manager with a vast knowledge of the Ink Trade and his associate Edouard Buffard buys a run down factory in Clichy. The rest is soon history.
In 1957 Marcel acquires Biro Swan, a leading pen company at the time, and introduces the UK and Ireland to one of the most recognizable brands in the world.

Did you know? 20.3 million BIC® Stationery products are purchased every day worldwide!
The BIC® Cristal Pen is an affordable, common companion. You can find it in every pencil case, school, home and office across the world.
The 4-Colour Pen (originally launched in 1970) Media Clic and Stic are recognizable classics. Their products continue to be responsible and sustainable, with a range of innovative features you should take note.
Biodegradable pens with 100% recyclable clips
Lead the way and get your hands on an incredible range of diverse biodegradable and Eco-friendly pens. New to the market and among our best sellers, commit to a sustainable development program when you purchase an Eco-sleeve or premium design window box.
Their core vision represents; 'Writing the Future, Together'.  To prove this, they boast a range of CSR based awards, hold a gold recognition status by EcoVadis and (like us) are proud members of Sedex.
Every best-selling ballpen from BIC® is available in recycled Ecolution versions. The most recent addition is the BIC® Media Clic Bio.
Media Clic Bio Ballpen
The barrel is 100% biodegradable, the clip is 100% recyclable and it's a great Eco-friendly giveaway.
Round Stic Digital Ecolutions® Ballpen
A classic design, easy to identify and offers a 360º full colour print area. This pen delivers your message across perfectly.
Evolutions Ecolutions® Pencil
This wood-free pencil is a little bit special. Manufactured from yoghurt pots and fridges, like the Stic Digital it offers a 360º full colour print area. It's resin material will never splinter during a breakage and is ideal for schools and organisations.
Adhesive Notepads Ecolutions®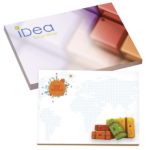 As well as their reliable pens, BIC® also offers a wide range of adhesive notepads and sticky notes. These adhesive notepads are made from recycled paper and can be fully branded with your logo and design, making your business indispensable in any office!
If you would like to add your brand to a BIC® product, call the team on 01623 636603 or contact us via our website.
Do you know your recycled from your bio?
Recycled – plastic that has been reprocessed from recovered material from industries or products that would have been disposed of.
Recyclable – plastic that can be collected, processed and returned to use in the form of raw materials or new products.
Biobased – a plastic where at least part of the content comes from renewable biological or agricultural materials.
Biodegradable – a plastic that is designed to degrade under compost conditions.
Did you know?
Purchase BIC's sustainable packaging and support Treedom. Help promote the development of small agro-projects, where women and children can survive on emancipation and independence.
They are also in partnership with Plas Eco®, creating outdoor furniture made from recycled pens and other stationery products!