Award-Winning Products for your Audience
This entry was posted on March 5, 2019
Award-winning products for your brand and message.
The start of the year means one thing – Awards Season! While showbiz and Hollywood royalty celebrate the likes of the Golden Globes, Oscars and BAFTAs, the promotional merchandise industry also has something to celebrate and shout about, with suppliers and distributors coming together to find out what's hot, and what's not, within a wide range of categories.
Like most industries it's important to recognise innovative products and best practice to help drive and improve all aspects of what we do. Here we present the platinum award-winning products that will help you to stand out and leave a lasting impression with your audience.
Desk Product of the Year - Smart Tivoo
The Smart Tivoo is the new generation pixel art smart speaker that can be customised with your logo.
While your audience can get creative with Pixel art, it also offers handy features such as Social Media Notifications, Voice Messenger, Daily Planner, Sleep Aid and Alarm Clock. With so many features you can see why this award-winning gift would be well received, creating endless impressions for your business and brand.
Pocket Product of the Year - Octopus Booster Power bank
As we rely heavily on our devices to get us through the day, it's no surprise to see a handy gadgets amongst the award winners.
The Octopus Booster Power bank has multiple connectors for all major smart phones, with a built in 1.000mah battery, providing an emergency boost for when it's needed. As well as giving your brand awareness some power, it offers a four-colour branding area and is available in a variety of colours.
Executive Product of the Year - Real Wood Column Award
Responsibly sourced, sustainable and recyclable, it's no wonder they themselves are award winners!
Beautifully crafted, making the most of the natural wood, the column awards can be engraved or printed to two sides as standard. The awards are completely natural, each wood type has its own characteristics, with the wood varying slightly in colour, blemishes, grain and other inconsistencies adding to its individuality and uniqueness for the recipient.
Edible Product of the Year - Oblong Tin, Clotted Cream Toffee
Research shows, the best gifts are considered useful in everyday life…or edible! We love tasty treats here at Pellacraft, so we cannot wait to sample some of these Clotted Cream Toffees!
The traditional sweet treats are presented in a fully customisable tin, making them a great gift for your customers or employees. Once the toffees have been enjoyed, the tin can be kept and re-used adding longevity to your gift.
Eco Product of the Year - E Leather Recycled Environmentally Friendly Notebook
Made in the UK the E Leather is a soft-leather material created from high-quality, unused leather fibre, through a totally unique process. The process removes many of the adhesives that can be harmful to the environment. To quote "…the E Leather notebook is responsibly turning something that would be otherwise wasted, into something that's truly wanted."
The E Leather notebook can provide a desirable gift for your customers or employees. The notebook is available in eight colours and has a soft matt finish which is great for embossing. You can also add detail to your design with contrast stitching, showcasing your brand in a stylish way!
Promotional Pen of the Year - Senator, Nature Plus Biodegradable Pen
Made from renewable raw materials, this pen is durable and biodegradable which is great news for your environmentally conscious brand!
The Nature Plus Biodegradable Pen is available in ten colours and offers a great branding area, it also includes a large magic flow refill, which means the user can sign their name over 11,000 times, while you gain 11,000 impressions!
Year on year branded pens top the list of promotional products; despite the high-tech world we live in, everyone still needs and uses a pen, making them a cost-effective tool in helping to increase your brand awareness.
Promotional Bag of the Year - Full Colour Tote Bag
Shopping for a branded, promotional bag? Look no further, add this to your favourites and visit the checkout!
Manufactured in the UK and printed full colour, this tote bag can deliver exceptional bright and vivid results; helping your brand and design to stand out with every use!
Technology Product of the Year - E-Notebook
From paper to device; thoughts, ideas and scribbles can be captured with the E-Notebook. It allows you to write notes on paper and then store them in the Cloud via a handy APP. The included pen registers your notes or sketches via the sensor in the back cover, with the product design allowing you to replace the paper, (soft back notebook) when needed. As the E-Notebook can be kept and used repeatedly, it will prove to be a cost-effective item that will create and leave a lasting impression. The e-notebook also offers a large branding area to the cover.
A must-have item for employees, enabling them to send notes back to the office if they are out and about, or it will make a great premium gift for customers.
Innovative Product of the Year - W10 Collapsible Cup
Available in Stainless Steel or Rose Gold, the W10 Collapsible Cup provides a stylish and striking design and can be engraved with your logo. The cup drops down to a handy size that can easily be carried in a small bag or jacket pocket, providing a handy drinking vessel for all types of occasions.
Textile Product of the Year - Full Colour Printed Towel
Stepping away from the traditional desk or handy tech item, a towel is not a product you often associate within the promotional mix. However, there's a whole host of scenarios where branded towels can be used to promote and showcase your brand.
Ideal for hotels and spas, sporting clubs, extreme obstacle races or beach & summer themed events, the branded towel can provide a little luxury for your audience as well as reassuring them you are there for when they need you; ensure your brand awareness and audience is all wrapped up!
If you would like your business to stand out with our range of award-winning and trending branded products, get in touch to see how we can help. Call us on 01623 636602 or contact us via the website.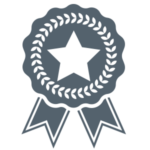 To see all of our award-winning products, look out for the icon!
Shop Latest and Trending here