Artwork - Your Questions Answered!
This entry was posted on January 23, 2020
What do we mean by artwork?
Artwork is a visual representation of how your final branded product will look. The will show the size and position of your logo and / or design to scale.
Whether you are looking for a full colour branded mug that takes up every millimetre it can with its design, or a classic engraved pen, an artwork proof will be supplied.
Creating artwork...
To create your artwork, all we need is your logo and / or design – it really is that simple. We usually ask for logos etc to be supplied as an EPS, or PDF format. If you are unsure, don't worry, we can advise on this! We will then apply your artwork to the product and send you an artwork proof.
Did you know? We have a talented in-house design team!
If you are looking for a product to include more than just a logo and have an idea in mind, but don't have the luxury of a design team, we can help with that too, all you need to do is let us know and send us your brief!
Approving artwork…
Your order will not be processed until your artwork proof has been fully checked by you!
If you are not 100% on how your final product will look, or if you have spotted a last-minute typo, don't worry, just let us know and we can amend this for you. It's only when we have received confirmation of artwork approval that we send it to print, and the changes can't be made!
We urge all of our customers to check and double check artwork. Check that the positioning of your logo is correct, and the colour is right. Mistakes are easily made…and yes, we've made the odd one or two ourselves. It could be a simple typo on your web address, (check your .com's from your co.uk's), or a missing digit from a telephone number, but it can be costly if not caught in time.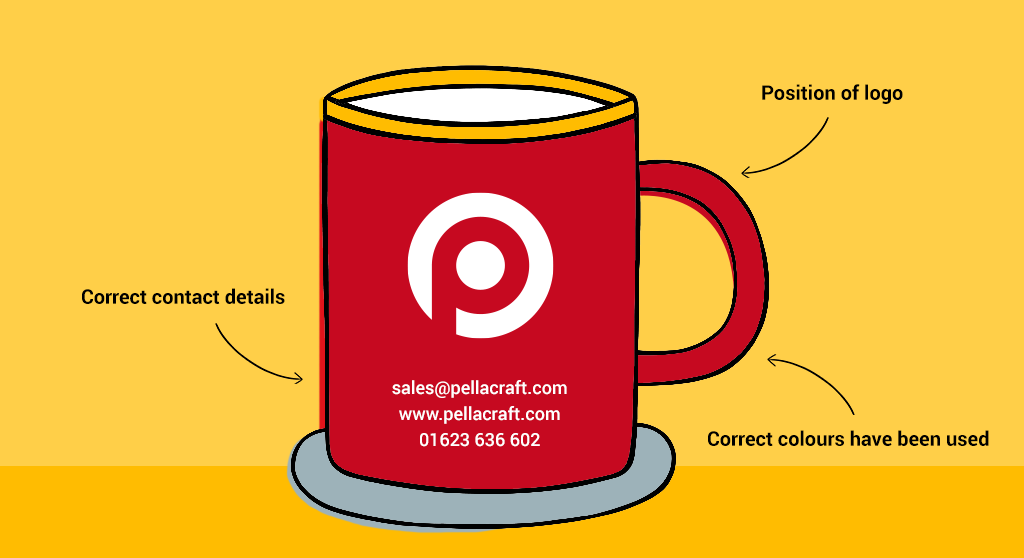 How long do you keep artwork for?
Here at Pellacraft, we will keep your files for a maximum of three years, we do this because you never know when you might need it again!
For example, if you are looking to place a repeat order, we can refer to the product details and artwork quickly and easily; perfect if you are working to a tight deadline!
We also find our customers like to look at previous artwork for inspiration, and it helps our designers too; they can look back a previous product designs and get a feel for your brand and style. Equally, if there's something you particularly liked about a previous design, we can look back and see how that can be applied to a new range.
While we keep artwork, our suppliers may only be able to keep your screens for a certain amount of time due to the volume of orders, so you may experience additional set-up charges, but your account manager will be able to advise on a case by case basis.
We hope we've helped!
We hope we've answered some of your questions, but if you do have any further queries, please contact your account manager directly, call the team on 01623 636602, or contact us via the website, and we'll be happy to help.